Princess Love says she is divorcing her husband of three years Ray J.
There's trouble in paradise, and it looks as though it's all coming to a crashing end. Ray J and his wife, Princess Love, have not had the easiest relationship of late, to put it mildly. The pair, who have been married since 2016 and star on Love and Hip Hop: Hollywood, have both taken to Instagram recently to take shots at one another.
Princess is currently 8-months-pregnant with the couple's second child and alleged that Princess is currently 8-months-pregnant with the couple's second child and alleged that the "I Hit It First" singer had abandoned her and their 1-year-old daughter, Melody, in Las Vegas.
"Left me and Melody stranded in Las Vegas and blocked me from calling… now you wanna post family photos. #ByeUgly," Princess commented on a red carpet photo that Ray J posted on his IG.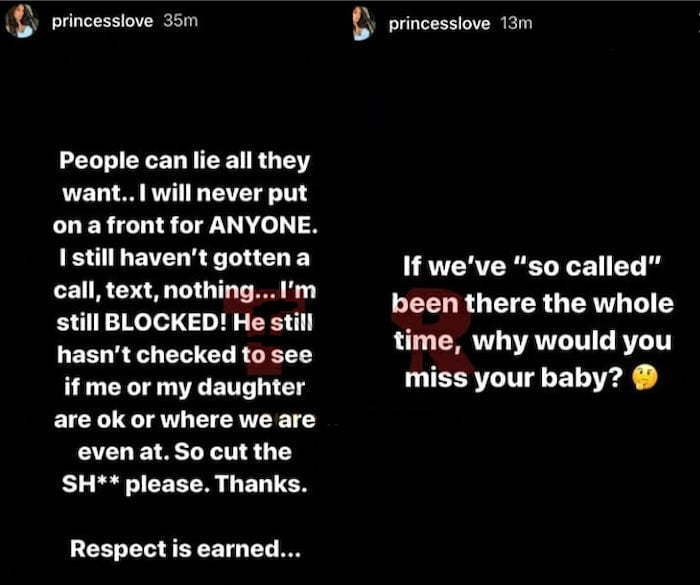 Denying the claims that he had left the Nevada capital, Ray J posted an emotional video from his Las Vegas hotel room in which he said, "To insinuate I've done anything to harm my daughter is sad man. I just don't understand how somebody can get stranded when we never left, we've been right here. People are going to get into little arguments here and there, it's small stuff that you could work out, but to take this to social media and create this crazy story about me leaving my baby in harm's way is not cool."
The video was captioned, "I miss my baby Melody so much it hurts!" Princess then responded with a fantastic point — "If we've 'so called' been there the whole time, why would you miss your baby?"
"I still haven't gotten a call, a text, nothing… I'm still BLOCKED," the expecting mom put on her Instagram Story. "He still hasn't checked to see if me or my daughter are ok or where we even at."
Now, things have escalated even further. Commenting on her husband's video, Princess wrote, "Filing for divorce when I get back to LA." Princess followed that up with a video in which she further unpacked the situation: Ray J reportedly wanted her to move to Vegas, but she does not feel it is a healthy environment in which to raise children.
Are her threats for real? Is she just trying to make Ray J squirm? Is this all a ploy to bring on labor?
Time (and probably another Instagram post) will tell.