Jada Kingdom is calling out Young M.A. for dubbing her fanbase the "MABsters" following Jada's recent announcement that she is officially naming her fanbase "Kingdom Mab."
It's been an eventful day on Instagram already, and the inconspicuous evening sun is far from setting. American Platinum-selling recording rap artist Young M.A. and popular Jamaican dancehall singer and songwriter, Jada Kingdom, are beefing on the gram. You read that right. It's all stemming from M.A. allegedly stealing Jada's fan base name idea.
About a week ago on Instagram, Jada Kingdom took to her story to tell her fans how emotional she was about them. Taking a quick break from her recording session in the studio, Jada announced the new "Mad And Bad" a.k.a. "MAB" label. "…and yes! a "Kingdom Mab" mi start call unu caz unu MAD AND BAD NUH F*K plus it ties back in with "mob" I know y'all get it #KingdomMab," Jada wrote.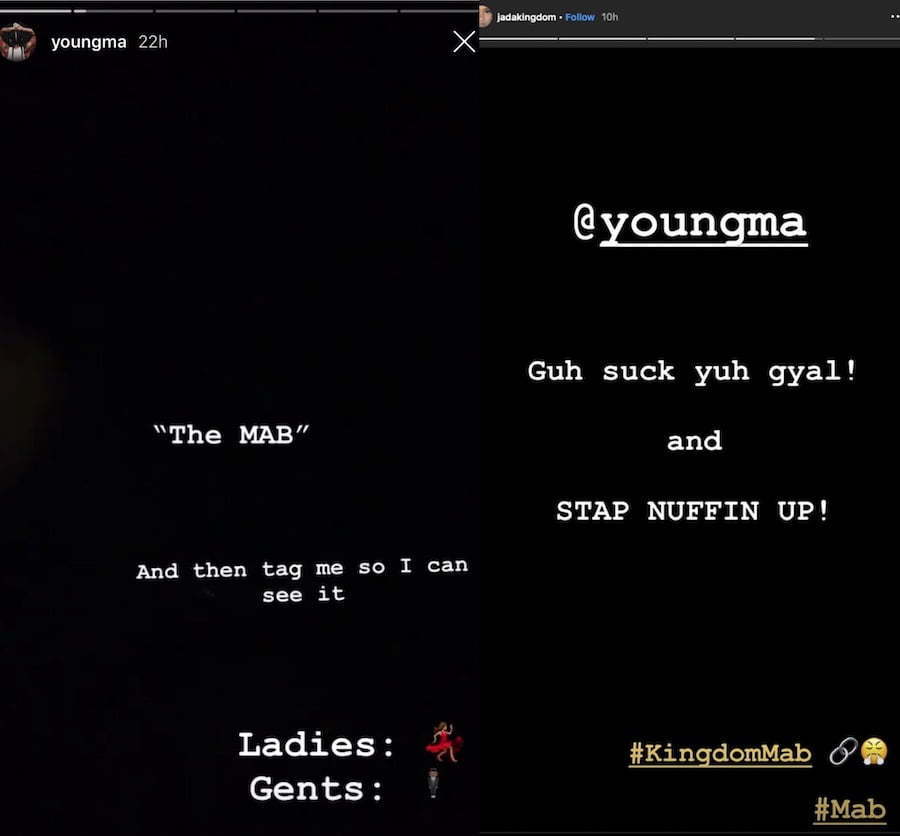 Now mere hours ago and according to Jada, right after M.A. liked one of the voluptuous singer's posts, the 27-year-old rapper made an announcement of her own. "So to all my day 1's to anyone who ever supported me and still supports me, you are now officially part of 'The Mabster,'" Young M.A. wrote. "We are officially family! welcome to The "MAB" (MOB)." She went on to add, "2020 the plan is to expans "The MAB" before sharing the post to her Instagram page.
Once Jada Kingdom caught wind of this, she immediately called out the barefaced rapper, holding nothing back in the process. "Lol right after him like my pic this happened! a joke dis! Waaaw!!!" Jada shared to her story. After reposting her "MAB" announcement post from a week ago to her Instagram story once again, Jada took it a step further when she addressed Young M.A. directly. "@youngma Guh s**k yuh gyal! and STAP NUFFIN UP! #KingdomMab," the 21-year-old singer directed to the rapper. In case you doubt that M.A. would have any trouble translating this, the New York rapper is actually the offspring of a Puerto Rican dad and a Jamaican mother.
Young M.A. has since posted another photo to Instagram, this time in her likeness with the caption "Smile thru the bullsh*t" while promoting a Since 1982 NYC hoodie that coincidentally has the colors red, green, gold and black in its design. Do you think this is M.A.'s response to Kingdom, who has less than a sixth of the fans that the rapper now boats on Instagram? How will those numbers affect who gets dibs? I think both names can co-exist "MAB" and "Kingdom Mab" but I can't say I wouldn't be livid too if I was Jada. A little artistic integrity or originality never hurt anybody. Let's keep a close eye on this story to see if the two artistes will keep throwing subs or directs each other's way.