Summer Walker is not going to pay a high price for a manicure.
R&B star Summer Walker has been very vocal about not keeping up with the demanding beauty standard of 2019 and is adamant about being her true self, no matter how famous she gets. It was just last week she went on a long rant bashing women who put more effort into their image than they do their character and said she refuses to participate in a daily "bad b*tch contest." The Over It singer is staying true to that policy even when it comes down to bargaining with beauticians on the price of her nails.
On Thursday night, while traveling to Los Angeles, Summer posted a photo of a french manicure to her Instagram story, and the caption read, "Lmao these are French tips, they cost 65, 70 at the most. I've arrived in la & someone just told me $200. I wasn't going for it. She then said she can do 65." Fans didn't think much of the post until the alleged nail tech clapped back and told her side of the story.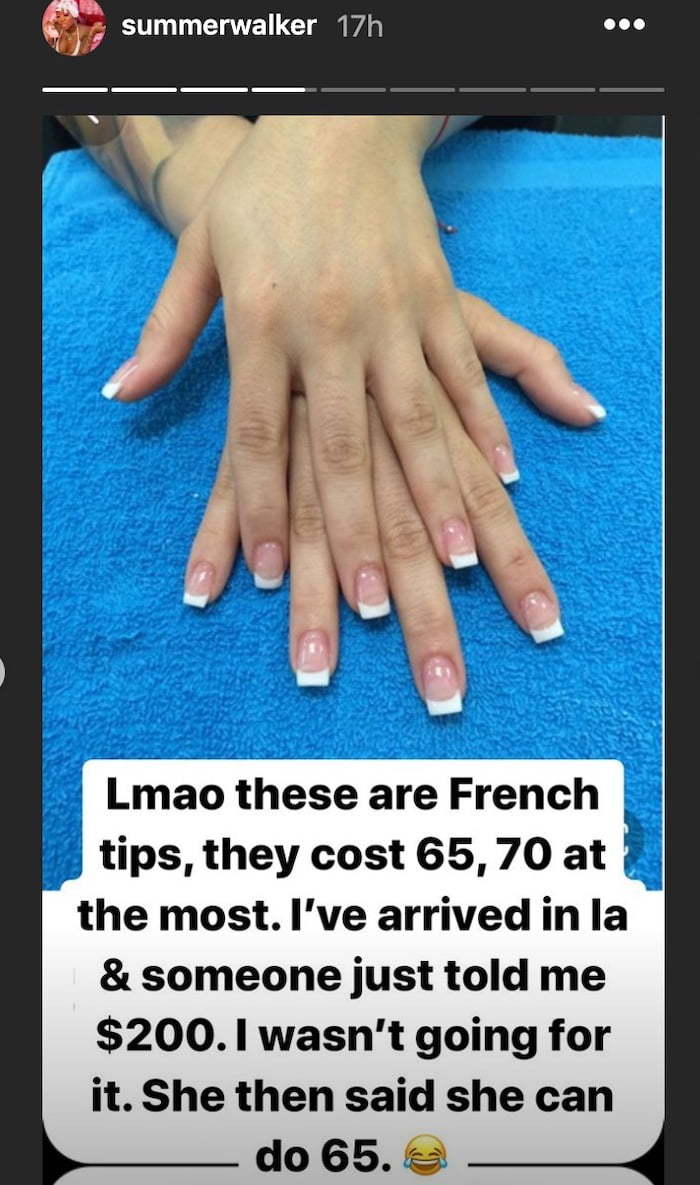 "She wanted a HOUSE CALL 45 minutes away and late at that," wrote a woman named Desinee Ann on her social media. "The price was more than fair. If she wanted REGULAR PRICES SHE could've came in the shop like a REGULAR PERSON." The nail tech went as far as to call Summer Walker a "b*tch" and said she no longer worked out of her home and felt justified to charge the singer $200. "Even if I worked off a sidewalk u gone respect my hustle period asf."
There is no way to confirm if Ann is actually the nail tech whom Summer Walker was referring to, but she seemed pretty adamant about defending herself. The songstress did go on to post a quick video of herself getting her nails done in what looked to be a recording studio, so whoever she booked was willing to make the house call for the right price.