Bhad Bhabie is clearly not agreeing with being called the loser in her latest face-off against longtime rival Woah Vicky.
The 16-year-old rapper took to her IG account to address her haters and shed some light on what really took place during the fight. One post clearly aimed at Vicky reads, "You live for the internet talking I anit doing nun of that YK where u b pull up like I did show me u bold my dudes an it gone hold sh*t back."
Controversies are not new to Bhad Bhabie, who has previous runnings with other rappers. Earlier this year, she had some not so kind words for Nicki Minaj after stating the Queens rapper does not write her own lyrics. She further compounded things by labeling Nicki as being salty of Cardi B's fame. As you can imagine, Nicki's Barbz pressed her pretty hard for her harsh comments against their queen. Bhabie's list of confrontations does not stop there, as she even got into it with Iggy on Twitter around this same time last year.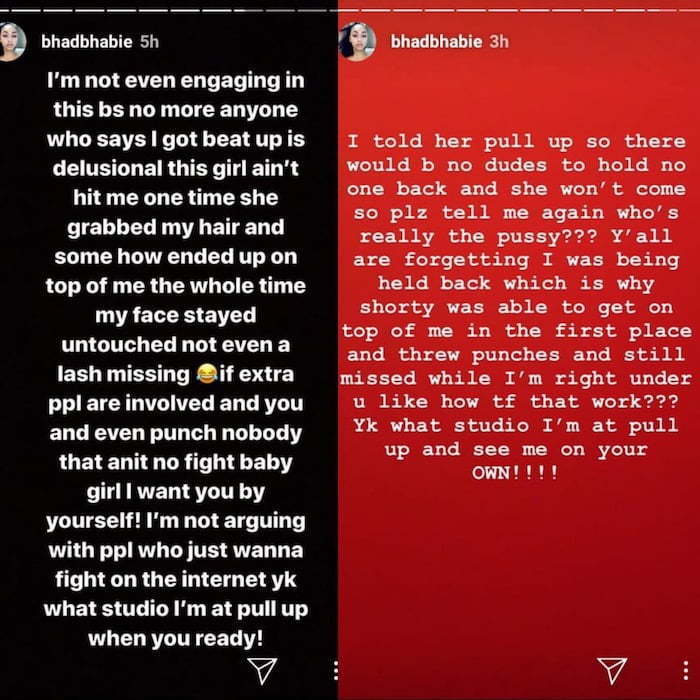 It seems that her plans to attack Vicky did not go as scripted though, as Vickie put up a pretty good defense and may have actually come out victorious in this latest rumble. A clip from the video captures a dejected Bhabie being pulled and ushered out of the studio.
The Floridian rapper questions Vicky's credibility as a thug, "why you don't just pull up with no dudes…nobody holding nobody back Lol have fun editing your video." It's hard to see Vicky staging this one for clout since Bhabie is the one who approached Vicky at the studio. Either way, Bhad is denying getting a beatdown, stating that she was barely touched. "I'm not even engaging in this bs no more anyone who says I got beat up is delusional this girl ain't hit me one time grabbed my hair and some how ended up on top of me the whole time my face stayed untouched not even a lash missing."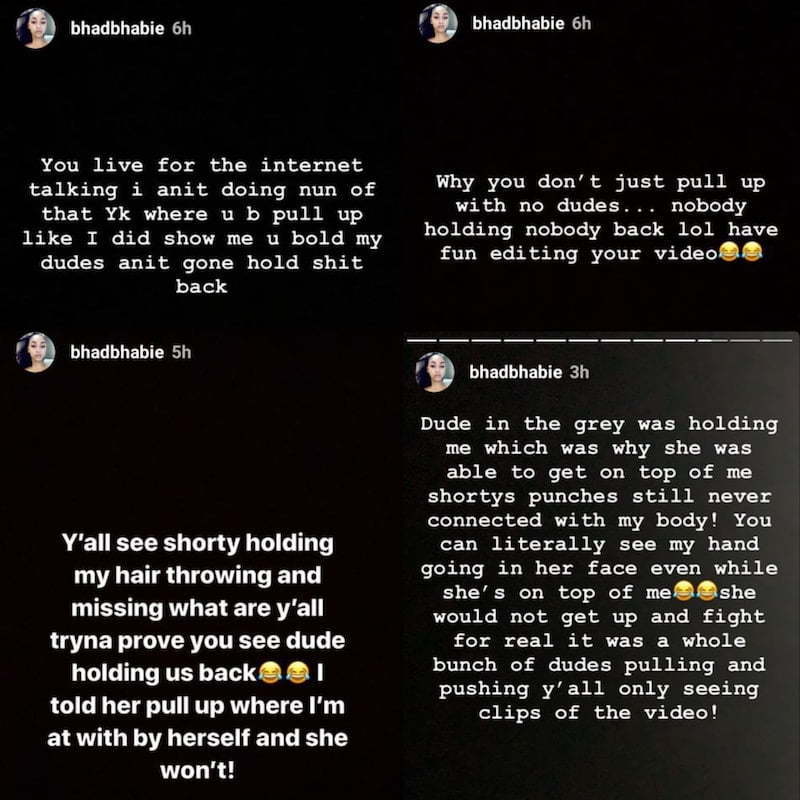 Bhabie is clearly on a war path and seems ready to tackle Vicky as long as it is a fair fight, involving only the two of them. It seems we may have another catfight on our hands if Vicky accepts the challenge.