Bhad Bhabie has finally decided to get read of her tattoo of NBA YoungBoy after he remains silent about the issue.
Bhad Bhabie has always been very defensive about her relationship with NBA Youngboy. Though they've never admitted to being an official couple, Bhabie often found herself being extremely dubious about the subject. Earlier this year, the 16-year-old rapper was spotted with some new ink on her wrist that reads "Kentrell" which is Youngboy's first name. At first, Bhad Bhabie, whose real name is Danielle Bregoli, denied that the tattoo was in honor of the Never Broke Again rapper, but she later came clean about it.
Bregoli continued to deny a romantic relationship with Youngboy but asserted that the public knows nothing of their relationship and shouldn't be so quick to judge. In a viral video she shared to Instagram, Danielle admonished fans who assumed the tattoo meant they were more than friends and claimed that the tattoo was always there but was just recently retouched.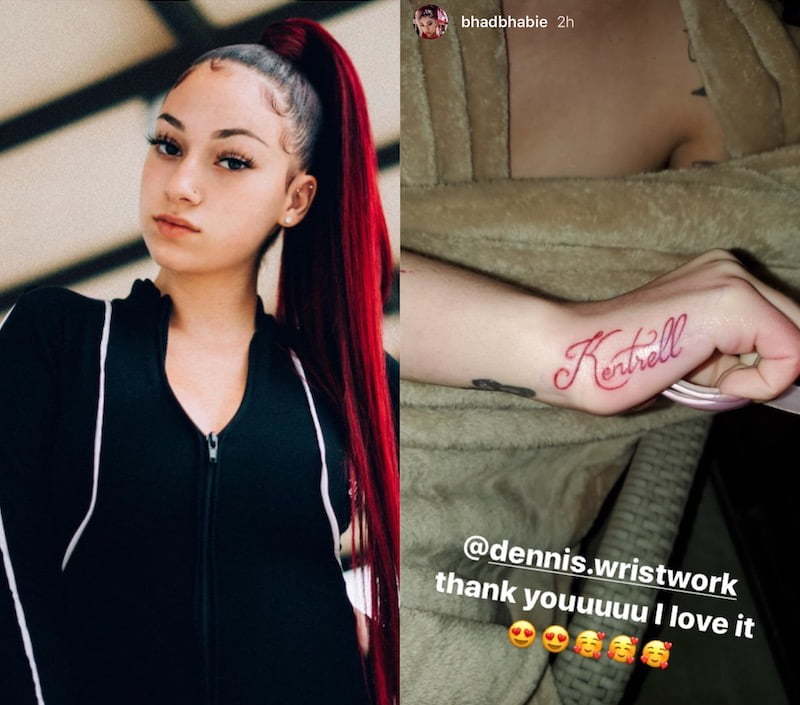 "Y'all don't know nothing. It's so crazy. All I see on the internet – people talk and talk and talk about sh*t y'all don't know about," a defensive Bhad Bhabie said. She insisted that it's her body and that she can do whatever she wants with it. The 16-year-old rapper also pushed back against critics who claimed that she is trying to forced herself on YoungBoy. "I did not get this tattoo to be with him or because I'm with him. Like come on, stop," she said.
Certainly, no one was convinced that a 16-year-old girl would have committed to permanent ink without some sort of intimate connection to the name she inscribed. It seems now, however, that this connection was broken as Bhad Bhabie recently shared an Instagram story of her in the tattoo parlor once again getting a huge black butterfly over the name she had tatted only a few months ago. Now, unsurprisingly, everyone in the comments is, of course, asking, "Why cover it up if he's just a friend?" Check out the new ink below.
Perhaps she feels that NBA YoungBoy did not defend her enough while she was getting criticized by his fans.