The Game claims he has permission from Nipsey Hussle's family to carry on with his legacy, but .
The world suffered a catastrophic loss when rapper Nipsey Hussle was shot and killed on March 31, 2019. His death had a monumental impact on fans worldwide, and even those that only became aware of the rapper after his passing immediately felt his power and greatness and experienced substantial grief over him being taken so soon. I have never seen the death of a rapper invoke such motivation amongst people everywhere. He is greatly missed by all, especially his children, family, and his partner, actress Lauren London. Nipsey's friends have also been very vocal about what he meant to them, including fellow rapper The Game.
The Game and Nipsey seemingly shared a tight bond that went deep, and he has not shied away from making his close relationship with the rapper known to all. Some fans believe this close-knit relationship was unknown, while others state that the pair were, in fact, really good friends. Upon Nipsey's passing, The Game took to social media to memorialize his friend. The rapper shared many touching and heartfelt messages detailing his friendship and the pain he was feeling at having lost Nipsey. He posted daily about Nipsey making a promise to continue one Nipsey post a day, which then transgressed into him declaring Mondays as #MarathonMondays in memory of Nipsey. He even got a tattoo of Nipsey's face to show his love for him.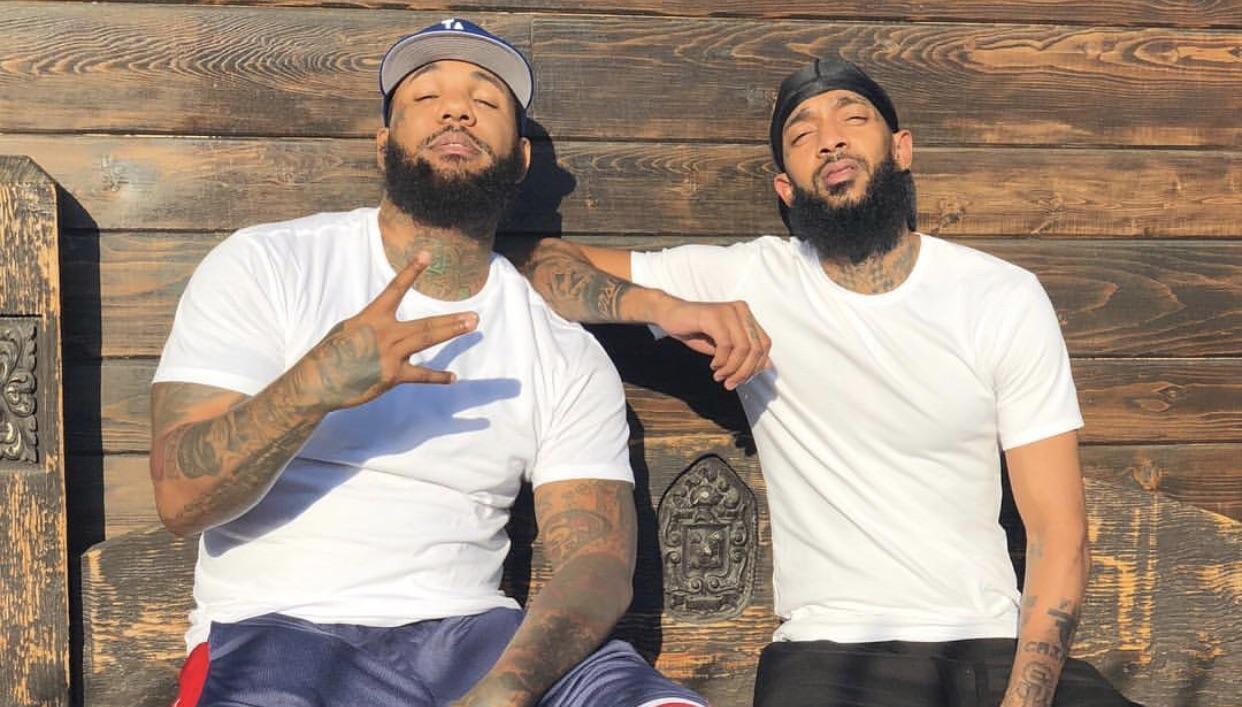 However, his latest Nipsey motivated dedication is not being well received. The rapper recently announced his new label, Prolific Records, which also has its own merch and upon being released online, reportedly sold out within half an hour. This is more proof of Nipsey's powerful impact on fans. Some of Nipsey's fans, however, aren't comfortable with The Game utilizing Nipsey's name and legacy for profit, and they took to Instagram to share their concerns stating that Nipsey is being exploited for monetary gain.
The Game took to his Instagram page to respond to fans' claims by posting a lengthy message on his IG Story. The rapper defended his record label and merch as well as making it known that he has been given consent by Nipsey's family for anything involving the late rapper. "I'm only addressing this because of the very few people upset or bothered by the @prolificrecordsla merch etc…. #1 the use of the word "Prolific' by myself is only my way of helping to carry on my bro's legacy. Any merch that has been sold has my face on it, my albums is all pictures, logos etc are related to THE GAME," he stated.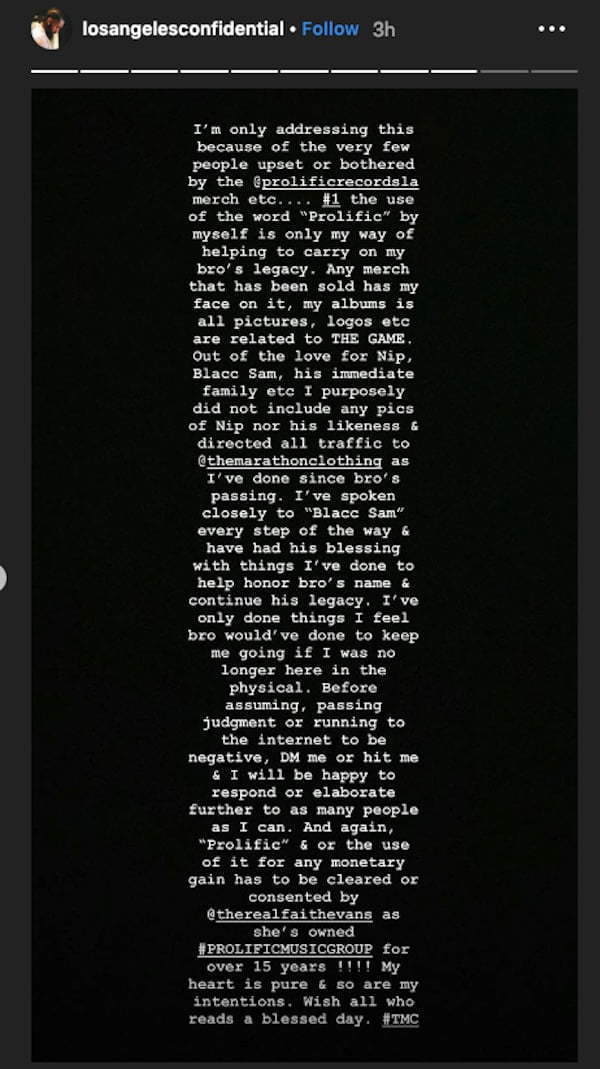 He went on to add, "Out of the love for Nip, Blacc Sam, his immediate family etc I purposely did not include any pica of Nip nor his likeness & directed all traffic to @themarathonclothinq as I've done since bro's passing.
I've spoken closely to "Blacc Sam" every step of the way & have had his blessing with things I've done to help honor bro's name & continue his legacy. I've only done things I feel bro would've done to keep me going if I was no longer here in the physical. Before assuming, passing judgment, or running to the internet to be negative, DM me or hit me 4. I will be happy to respond or elaborate further to as many people as I can."
The rapper once again stressed that nothing he is doing is without approval, "And again, "Prolific" & or the use of it for any monetary gain has to be cleared or consented by @ therealfaithevane as she's owned #PROLIFICMUSICGROUP for over 15 years My heart is pure & so are my intentions. Wish all who reads a blessed day. #TMC."
Fans have continued to lash out against the rapper calling him a fraud, "f**k this guy! he tried to use dudes women/Wives to help generate a buzz, earlier in the year. Now he using Nip, to make some cash. FOH game, youre a lame for these antics.. Sad thing tho. I genuinely fuc with Games music. Dude has always had talent. I never felt like he needed 50 cent type of stunts to generate buzz for his projects. Guess the times have changed… SMH."
The Game is really doing his best to profit off of Nipsey Hussle lol he's sick. Even Nips friends are mad about it pic.twitter.com/QGx7oV4jwh

— . (@YaniG4L) October 17, 2019
Whether The Game is sincere or not in his efforts to continue Nipsey's legacy, it is quite apparent that the majority of Nipsey's fans are still struggling with his death, and they appreciate anything they can get their hands on to remember him.