Cardi B is making it clear that she is not transphobic.
Rapper Cardi B is on the defensive after being attacked on Social Media for being Transphobic. In her defensive mode, the rapper took to Twitter to respond to the allegations against her. The "Bodak Yellow" rapper tweeted, "I'm not transphobic. Ya love dragging that. Have I said some remarks in the past that I apologized for YES, I'm from a place that people have closed mindsets so we might not wat insults other or not. I never disrespected no trans nor nobody from LGBT".
Cardi B then went on to defend her case by saying that she has shown love to the LGBT community many times before. She said that people should not label her as transphobic because she does not fit the description.
The Bronx rapper explained that by definition, Tranphobis refers to someone who is incapable of sharing a space with a member of the LGBT community or focuses there energy on denying them equal rights.
The rapper went on to explain that she has gay sisters and friends, as well as, herself would be considered apart of the LGBT community as she is bisexual.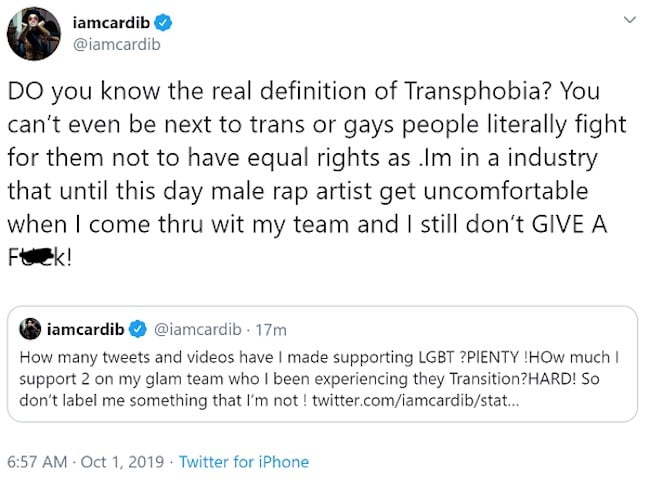 She also tweeted, "How many tweets and videos have I made supporting LGBT? PLENTY! How much I support 2 on my glam team who I been experiencing they Transition? HARD! So don't label me something that I'm not!"
There are persons who still do not seem to be satisfied with Cardi B's take on the issue and are still holding to the belief that the rapper as a vendetta against the LGBT community.
This is the second time that Cardi B is being accused of offending the transgender community in the past year. Last year Pose actress and transgender activist Angelica Ross accused Cardi of using an offensive slur. The artiste promptly responded with an apology saying that the slur was said on a facebook page that she does not have access to.