Safaree and Erica are having a baby.
Love & Hip Hop stars Safaree Samuels and Erica Mena have been couple goals all 2019 after Safaree popped the question and made Erica his fiance last December. Now the two have even more to celebrate. The reality stars announced they are expecting their first child together.
Vh1, which airs LHH, posted a video of the official baby announcement on Tuesday after rumors began to swirl that Erica had a bun in the oven. The clip shows Safaree, the ex-boyfriend of Nicki Minaj, rubbing his fiance's belly in amazement. "Wow. It's a big deal," Safaree says. "Very big deal. I didn't know I was capable of doing this but …I'm excited." Erica then stops him to ask if she looks "fat" as her baby bump pokes out of a cheetah print dress. Safaree tells her he can't believe how slim her face still looks, but no, she does not look fat.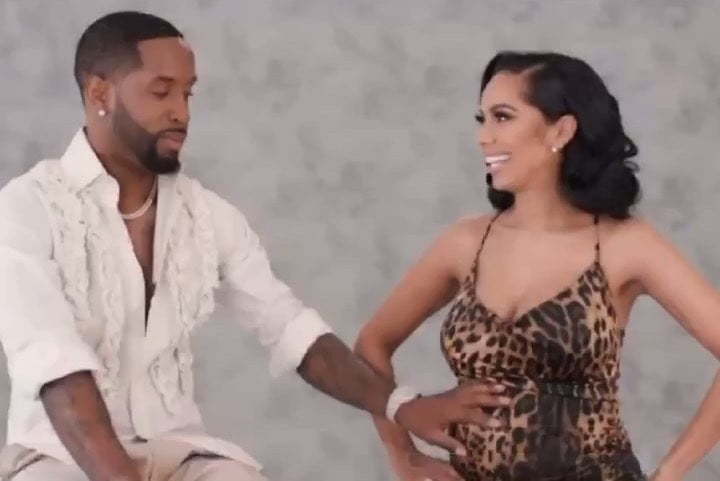 As Erica prepares for her second child after giving birth to her son King in 2007, she began giving some advice to her husband-to-be, who is new to parenthood. "I'm excited. But I told him parenthood is not all about, you know, letting the kid do what it wants to do," the 31-year-old said. Safaree expressed his nerves as the viewer got a glimpse of their "Bonnie & Clyde" style pregnancy photoshoot.
The two went on to say that Safaree has been researching dog births, and naively thinks it will be similar to human birth. The Jamaican-American celebrity then shared a story about how he fainted when he witnessed his sister give birth to his niece and what his plans are to keep his cool when his child is born.
Erica went on to talk about how her first son King will be a great big brother, and her choices to keep him out of the spotlight. She believes she will take the same approach with the new baby and be selective about how much she shares with the world. "It's good to be selective, but at the same time, this baby will come out the womb working," Safaree added. He said his Jamaican roots will push him to "pull a [DJ] Khaled" and put his son to work.
The two seem to be in a very happy place even through rumors of Safaree's infidelity and fans of Nicki Minaj harassing Erica on the street. The expecting mommy has also been vocal about planning the wedding, so she has a lot on her plate coming up in the next few months!
You can watch the entire pregnancy announcement below.
Just had my first bride break down. Been doing so good with all this wedding stuff. It's been overwhelming with everything that has to get done but this is the first time I actually let it out. I feel a lot better.

— Erica Mena Samuels (@iamErica_Mena) October 1, 2019