During Tekashi 6ix9ine's infamous snitch case this week, the rapper identified both Jim Jones and Cardi B as Nine Trey Bloods during the trial of Anthony "Harv" Ellison and Aljermiah "Nuke" Mack on Thursday (September 19).
After being made aware of Tekashi 6ix9ine's testimony, Cardi B took to Instagram posting a hilarious video meme of actress KeKe Palmer saying, "I don't know this man." Although it has since been clarified that Tekashi stated she was a Blood and not specifically Nine Trey, Cardi's reps at Atlantic Records issued a statement denying all gang allegations.
"She's not and has never been affiliated with this gang," her rep said.
The "Press" rapper, however, felt the need to correct her reps and have the correct information regarding her gang affiliations known by her fans. She confirmed that she is a Blood gang member, however, she's a member of the Brims set and not Nine Trey.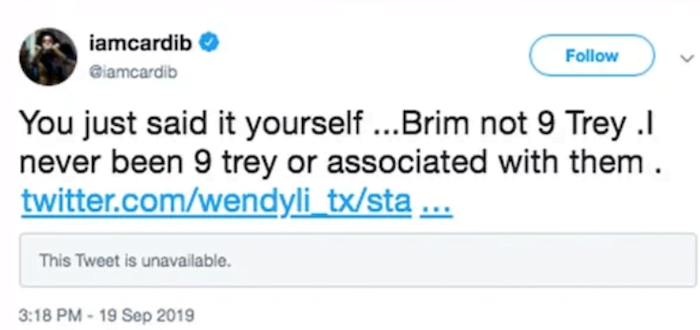 The Bronx rapper took to Twitter to share the message, "You said it yourself," she wrote in a since-deleted tweet. "Brim not 9 Trey. I never been 9 trey or associated with them."
Cardi B has never been shy about where she came from and what she had to endure to get to where she is today. Back in 2018, Cardi confirmed she was a Blood during an interview with GQ.
"When I was 16 years old, I used to hang out with a lot of Bloods. I used to pop off with my homies. And they'd say, 'Yo, you really get it poppin'. You should come home. You should turn Blood.' And I did. Yes, I did," she stated.
Cardi went on to say that she doesn't brag about the lifestyle as she wouldn't want young girls thinking it's okay to join. Cardi also went on to elaborate on why she can be so vocal about her gang affiliations.
Tekashi's trial is slated to resume next week Monday, September 23.