Iggy Azalea went in on Wendy Williams on Wednesday, calling her a "crackhead" in a rant on Twitter.
Rapper Iggy Azalea royally dragged Wendy Williams for statements she made on her TV show when she pretended not to know who the rapper was describing her only as "the Australian with the fake body." During an episode of the Wendy Williams show, host Wendy discussed what she thought of rapper Nicki Minaj's recent retirement announcement. Wendy, who stated that the retirement will be a new chapter in Nicki's life then questioned if fans will wait on Nicki to come out of retirement.
That is when she made her comment about Iggy stating, "Somebody in our morning meeting said that well they waited for, um who's the Australian girl with the fake body?" to which her producer responded, "Iggy Azalea."
Wendy then goes on to say, "Iggy Azalea, I said people waited for Iggy Azalea, I don't…Did people wait for her?"
The television host then proceeds to give her opinion of Iggy, "Even if they waited for her, Iggy Azalea is white. You know so she's a different type of rapper because she's white."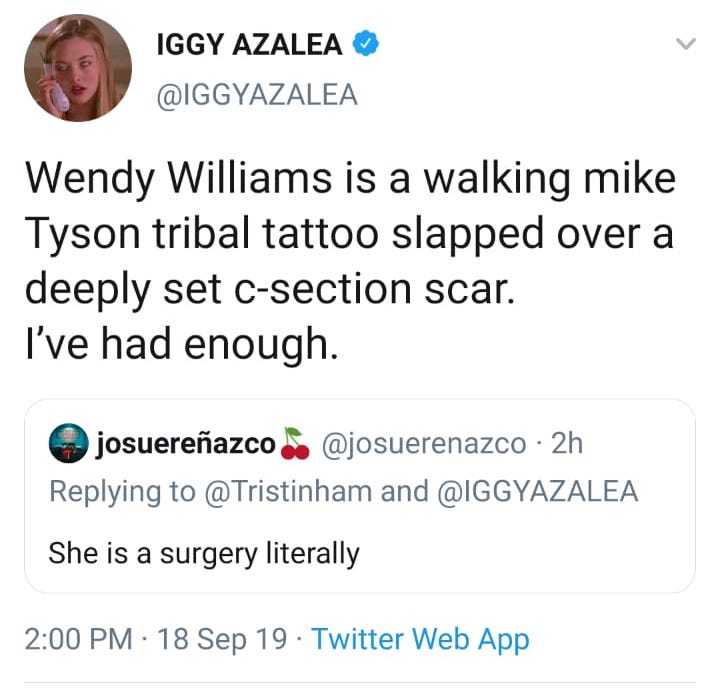 Iggy who has now seen the episode clapped back at Wendy for her statements. The "Black Widow" rapper took to Twitter to unleash an assault on Wendy. Iggy retweeted a clip of the episode that was originally posted by a Nicki Barb who had added the caption, "Your breath stink from talking shyt, you want a mint ?"
Iggy, however, added her own caption to the tweet stating, "Who's the crack head in the half way house with the gossip show thing?" She then made a second tweet which has since been deleted stating, "Wendy Williams is a walking mike Tyson tribal tattoo slapped over a deeply set c-section scar. I've had enough."
Since then fans have been supporting the rapper, and they took the opportunity to savagely attack Wendy on Iggy's behalf. One fan commented, "wendy has literally no space to talk about a "fake body" when miss thing looks like she belongs on an episode of botched ??"
While another fan added, "NOT 'P' TALKING ABOUT FAKE BODY LMAOOO."
Wendy is not known for holding her mouth, so it definitely won't be long before she responds to Iggy's clapback. However, fans seem ready and prepped to go all in on Wendy. I guess they've been waiting for this opportunity for a long time.
Who's the crack head in the half way house with the gossip show thing? ????? https://t.co/63sizBhR5L

— IGGY AZALEA (@IGGYAZALEA) September 18, 2019