Did Shenseea pick sides in the Alkaline and Squash war?
The Princess of Dancehall Shenseea recently posted photos showcasing a fabulous outfit. The "Blessed" singer was decked out head to toe in cream. She can be seen sporting a cream skirt, pumps, and most notably a turtle neck crop top. The crop top is what the singer decides to point out in the caption of the photo, "Call me Wasabi…Turkle Neck," posting a turtle emoji to close out the caption. The likes instantly came rolling in, and the post now has over 213 thousand likes. Many fans showed love to the singer commenting how beautiful and hot she looked.
However, some seemed to look deeper into the caption than others. We also took notice of the double meaning behind the caption. That is if there was, in fact, a double meaning behind it. The shade here comes from the title "turtle neck" and the corresponding emoji. Unless you've been living off the grid for the past few weeks, then you must have heard about the on-going feud between Vendetta Boss Alkaline and 6IX Boss Squash.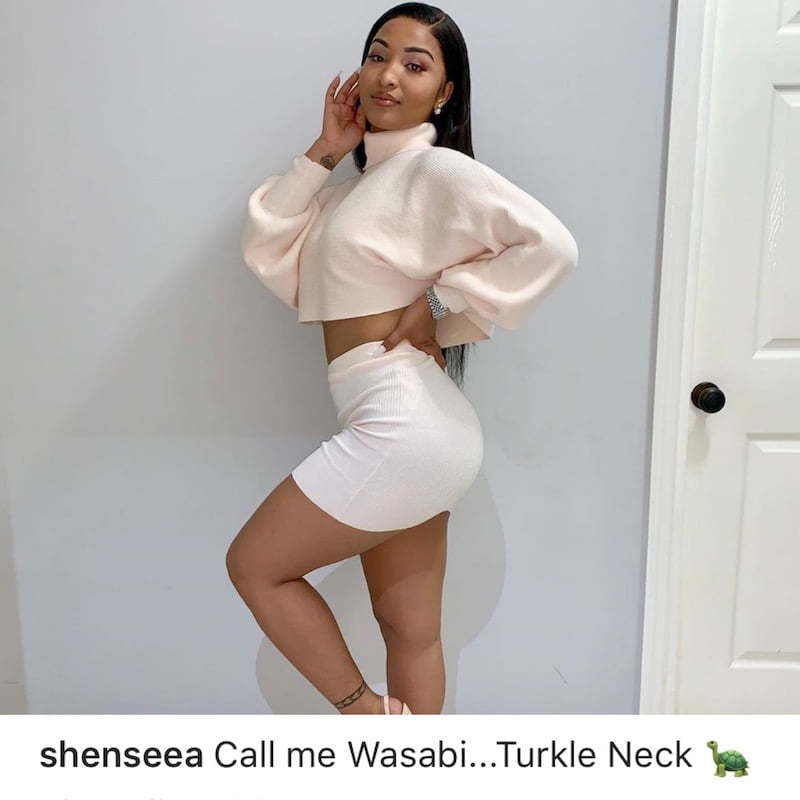 In Alkaline's diss track, "State of Emergency," he made references to Squash's physical appearance with the line "push up yu turtleneck." Since then Squash has been dubbed with the nickname "Turtleneck" with many persons dropping the now popular turtle emoji whenever anything having to do with the deejay comes up. Squash did retaliate releasing his own diss track "Pinocchio," and where he responded to Alkaline's 'turtle-neck' label, while handing out a nickname of his own, 'Squidward.' Squash's fans have now been filling up the comment section under Alkaline's posts with squid emojis.
Apparently, Shenseea has been watching the saga between the artistes and pokes fun or better yet shades Squash with her caption. Who knows, maybe it wasn't even deliberate. Her fans have been chiming in about what they think of the caption. One person wrote, "dem nuh get it Shen" followed by three turtle emojis.
"Or maybe because she's actually wearing a turtle neck blouse? It nuh dat deep," one fan wrote while another stated, "mi know wah yah duh ino shenseea!" One fan even went as far as to tag "Trending" deejay Squash in his comment which he then followed up with multiple turtle emojis.
Shenseea stated in the past that she supports every deejay and listens to all their songs no matter the camp they represent and her fellow teammate Uptop Boss Teejay is friends with Squash. But has the recent back and forth with Alkaline and Squash caused her to pick a side? Is she supporting who she believes made the better diss track? Her post does coincide with Alkaline's latest counter attack on the 6IX, which is his new diss song "Death Announcement."
Does Shen Yeng now rep Vendetta?