Etana has stepped forward to address her beef with Nikki Z in what appears to be another Trump fiasco.
Reggae singer Etana is no novice when it comes to controversy, as she has been previously bashed by reggae fans. Some fans have written her off as a result of her political statements in the past regarding President Trump. Recently, media personality Nikki Z seemed to bring the worst out of Etana after reposting a photo with both of them at Sumfest back in July. The photo was a response to a political issue regarding the cutting of one's locs which Nikki Z posted the photo to showcase her support. Nikki Z made it clear that the photo was about two black queens showcasing their natural hair. However, Etana did not perceive it as such and slammed Nikki Z calling her "industry mattress."
Fans everywhere began to pick sides, some stating the post was innocent and others claiming it was intentional and provoking. Etana received the most hate over the incident and recently released audios attempting to clear the air.
"This is Etana, and this is for clarification for all of my fans, and people who may not understand what happened between me and a particular radio personality today," the reggae songstress said. "I've never been the type of person to disrespect, mess with people, especially women like I don't carry on negative conversations about women. Cause I'm a woman, you know. But this is the second time that Nikki Z tags me, post me in some political thing like the first time that she tagged me negatively a few years ago I said to her I know you're not talking. She deleted the comment, I deleted my comment, and we moved along. Saw her after that and you know there was no vibe."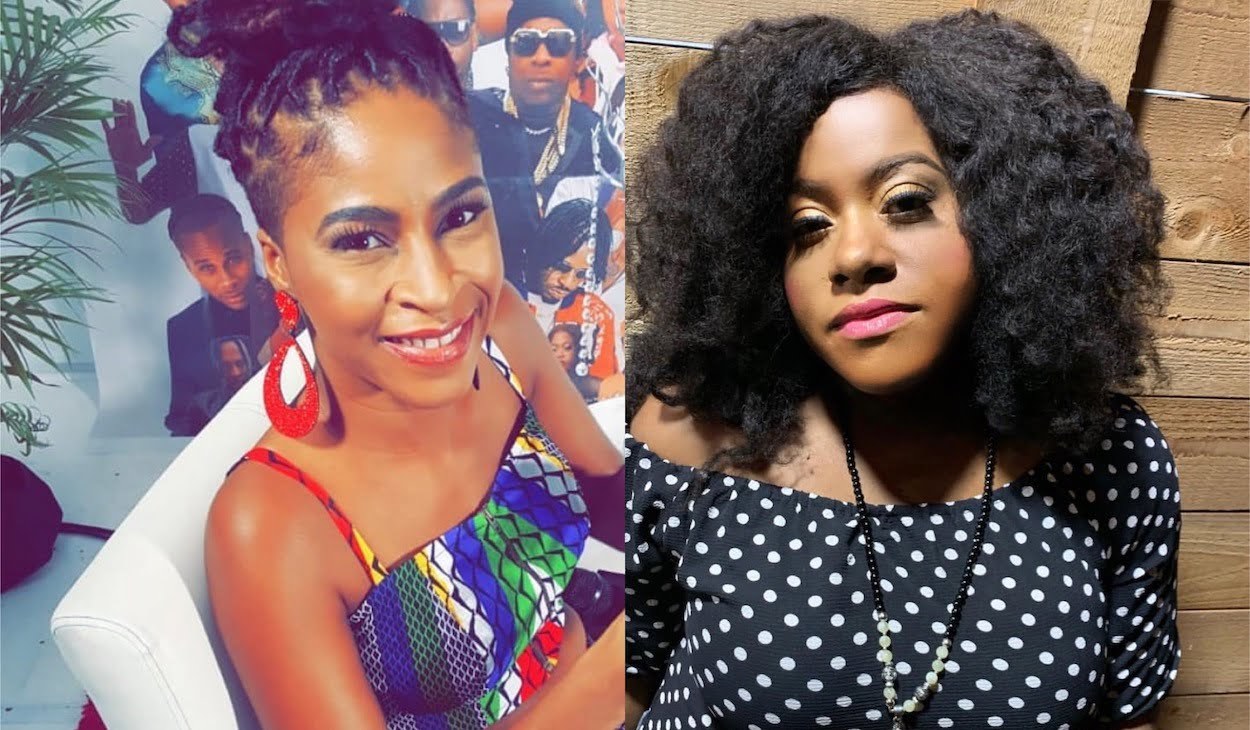 She then went on to say, "This time around there's a hashtag going around called #loclife. It's a protest about a man who got his locs cut by a Trump Supporter because according to the Trump Supporter, he was giving him a better life. So the hashtag is asking people with locs to post proudly an image of them with their own locs to replace the bad images. Cool protest right. So I couldn't understand why a picture of me two months ago that was taken with her at Sumfest would be the first pic for the radio personality to post in the protest. Like according to the radio personality, she hasn't taken any pictures in two months and that was the cutest picture that she could find in the protest."
She later added, "Me and everybody cool cause like that's my thing. I prefer to be happy, I prefer to be positive, I prefer to be a positive light in people's life you know and so, but when somebody tries to walk over me and to mess with me in certain ways I do react in ways that they may not expect or don't like right. According to her though, she did not mean any ill intent. We spoke about it, we resolved our issue. I put the first tweet and the second tweet behind me and we moved along. That's it in a nutshell and I thank all my fans and people who have been with me from the beginning all the way up to now."
Nikki Z also spoke out about the incident tweeting, "Sometimes what people go through is past our understanding. The weight they feel can be heavy like the world is attacking you. If someone lashes out, it makes no sense to lash back. Walk away or try a little understanding."
She followed that up on Instagram by posting an image of that same tweet with the caption, "Anyone who knows me knows I do not do 'Shade' I speak direct and always have. I posted a pic because that picture is beautiful and showed power #MelaninPower… the big puffy afro, the locs. There was no other thought behind it… I am not the only post with someone else in the shot… The story was about hair… What would be the point in shading an old story? A story I defended against (scroll down to the same picture on my page, read the comments) I do not do social media drama but for this I will say we spoke, we understood and we are both past it. I forgive and forget, she has apologized for what she said and I for the misunderstanding. The biggest take away I want EVERYONE TO UNDERSTAND is we are grown and sometimes before you attack it is best to communicate directly. I'm not an artist, I don't do clashes nor will I ever try to tear a woman down publicly from a misunderstanding… I will always come to you directly like I always have. Trolls continue to assume what you want… we have moved pass this and so should you. Love and Light #BETRU2U P.S too many more important things in the world than this… lets focus there."
One fan's reaction to the entire saga was this, "Mek Etana move har raas…. Fine, the girl posted you when she should have just posted a Pic of herself and for that you have all right to ask her to remove it. HOWEVER, u went as far as to call the girl "industry mattress" and now a start off by saying u don't disrespect women? Really? So u don't consider that disrespect? Nikki Z wrong fi post u, but instead of being the person that you portray to the public u act like "dutty gyal"…. But wi did done right u off fi u political views so this no frighten me at all… But don't try pretty it up… Own what u said."
It seems fans have decided to keep Etana on canceled mode and are more suspicious of her now than they were before.