50 Cent doubles down on his Michael Jackson disrespect and Paris Jackson came straight for his head.
Paris Jackson came to her father's defense on Instagram and pretty much bodied 50 Cent. 50 is known for his trolling antics on social media, and he recently posted a tweet that sent the entire world into a frenzy. The "Power" creator posted a photo praising Chris Brown for his single sales. The caption then read, "CB better than MJ to me now. I can't believe mike wanted to touch the little boy's booty. What the f**k man."
The vast majority of fans tried to overlook the comment saying he wanted to change the subject from his Power theme song debacle. However, no Michael Jackson slander would be tolerated. Chris Brown himself defended MJ by posting a photo visualizing all of Michael's achievements.
After Chris's response, everyone just muted 50 and didn't really expect for there to be a comeback, but in true Fifty spirit, he once again is running his mouth. 50 Cent uploaded a video to his Instagram page showcasing Chris Brown doing multiple backflips. The post was captioned, "All I'm saying is I never seen MJ come out like this"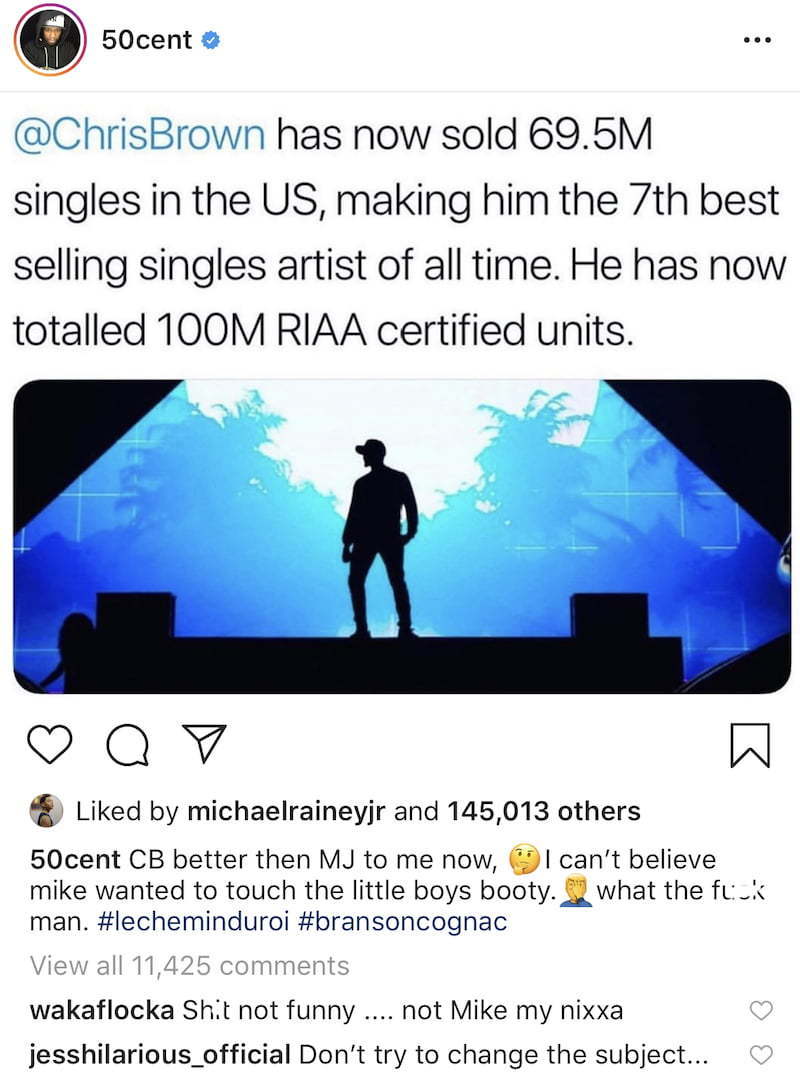 50 immediately got checked by MJ fans. "I love Chris brown but let's not forget all mike had to do was pop out on stage and stand still & mf's was passing out left and right. They had 50 ambulance trucks lined up outside before the concerts even started!" one fan wrote while another added, "Well cant compare nobody to chris cause he is the most talented of his generation but MJ created everything him self his moves his style he was just a genius."
Then came the big guns, Paris Jackson. The King of Pop's daughter, stepped in and dropped straight facts on 50 Cent's post. She commented, "superbowl 1993. true legends don't need to exert outrageous amounts of energy just to grasp your attention. stillness, my friend. stillness. more power in stillness than you can probably understand." She later added, "and I say this with zero shade to chris I love him dearly. This is just for you 50."