Chris Brown scored some more cool points.
The "No Guidance" singer was forced to check 50 Cent over some distasteful remarks about Michael Jackson on Saturday. The G-Unit rapper made a post on his Instagram, saying that Breezy is greater than the king of pop. He also made some references about Jackson molestation allegations which earned him some backlash on social media. Rappers, including Waka Flocka Flame, responded to the post while checking Fif about the comments. While some fans agreed with him, the vast majority were pretty upset about especially those who are strong supporters of MJ.
Chris Brown's name was also dragged through the mud, which is no surprise that he posted a response on his IG Story. The R&B crooner reminded 50 Cent and his fans that Michael Jackson sold over 1 billion records and received over 800 awards over his illustrious and decorated career. Brown shared a bunch of other achievements MJ received including five living legend titles and 39 Guinness World Records.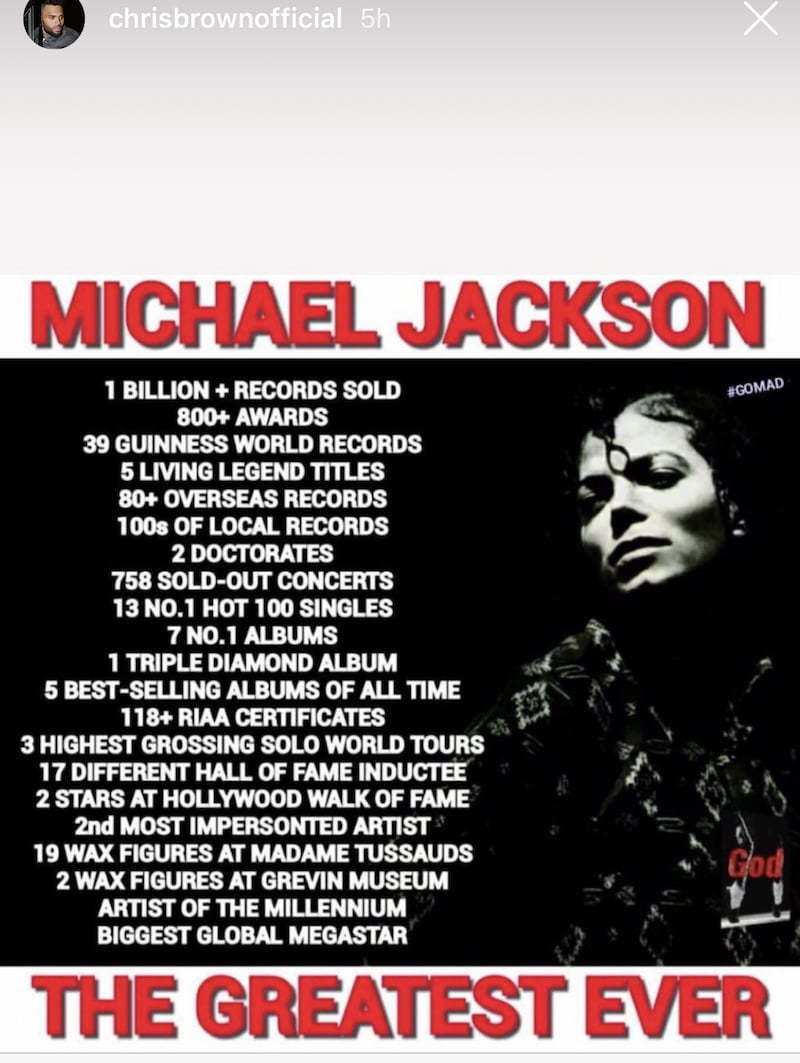 Considering that Fifty was suggesting that Chris Brown is greater than Michael Jackson. For him to take time out and search for MJ's achievements and posted it, means that he not only disagrees with Fif but is also graceful enough to concede the title of greatest of all-time.
It could also mean that 50 was just trolling, but his added comments about Jackson tipped some fans over the edge. They were not necessary, but let's not forget that Fif has been getting hammered all week for remixing the classic Power theme song with Trey Songz, so perhaps he was desperate to change the subject.

Breezy has always been a massive fan of MJ and even named him as one of his inspirations. In 2010, Chris Brown broke down crying while tributing Michael Jackson at the BET Awards. His performance was cut short because he could not contain himself.