Did the Guyanese female exposed Dexta Daps for lying about their alleged hookup? The dancehall star's wife also reacts.
Things are heating up. Videos proving Dexta Daps might have slept with Guyanese woman has been released. Yesterday we reported on a viral story involving dancehall artiste Dexta Daps. Earlier this week, photos were posted with him laying in bed with a woman, and it was alleged that they had slept together. There were also videos and photos showing that they had in fact spent the night together partying, however, Dexta vehemently denied having intimate relations with the woman, while going as far as to say that the woman snuck into his hotel room while he was asleep. Many fans were in disbelief as the female appeared naked in bed and her hair was disheveled.
The singer continued to deny the allegations and said, "Mi doh f–k it. Unu jus low me. Mi nuh f–k it. And if mi f–k it then none a unu cya do nuttn bout it but I didn't. Avoid me, leave me alone, yu hear? Mi can sue dem but mi nah no time. Guyana nuh mek mi start pree unu enuh. Guyana me a beg unu nuh mek mi start pree yuh. People a tell mi fi sue unu fi slander mi name an one bagga ting."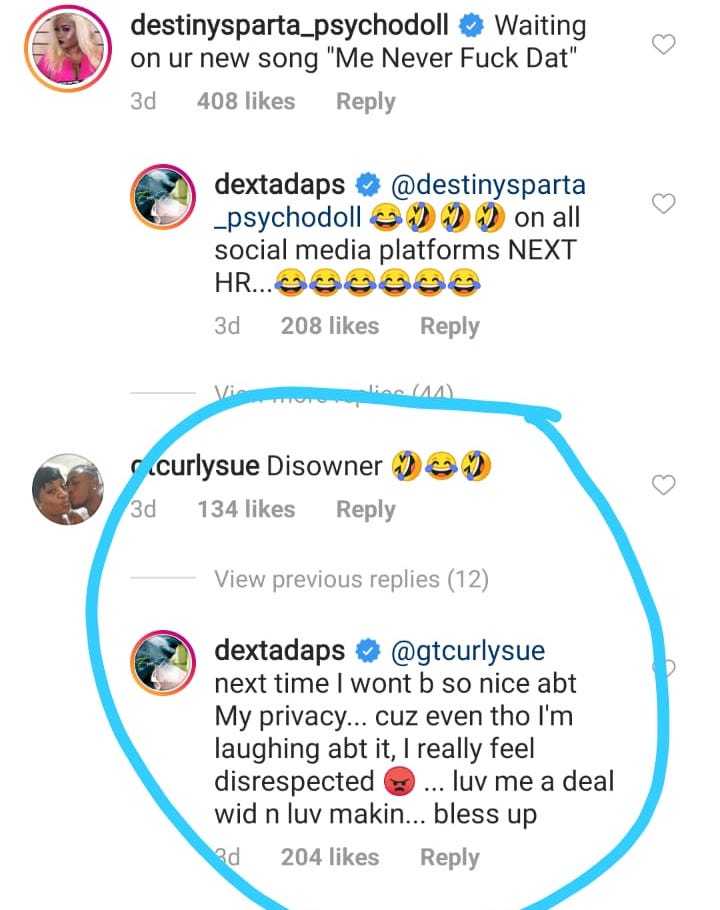 Many persons then hopped onto the defensive bashing the female and the hotel for their lax security. It was even stated by many that the hotel should be sued for their negligence. Fans of the artist continued to show their love and support with many hoping that this incident does not deter the artist from performing in Guyana in the future.
Dexta's alleged wife also responded to the drama on her Instagram live. In the video, she is seen sitting beside the artist while they converse about the situation with the Guyanese woman. To which she states, "Yeah that girl is crazy. Loco. She alright." His wife definitely had his back. But alas, what is done in the dark must come to light. Videos have since been released via hotel security cameras showing Dexta and the woman entering the hotel together. He walks some distance ahead of her and enters the elevator, and she joins him shortly after. Then there is a video showing them in the hotel room together, confirming that he lied.
Fans have been joking about the incident posting comments such as, "Waiting on your new song, 'Me never f**k that." To which Dexta responded, "On all social media platforms next HR," with laughing emojis.
Fans have also been making a point of mentioning that he was walking ahead of her as they did not want anyone to know that they were together as she was in fact, just a one night stand.
Another person commented, "Disowner," mocking his famous song, "Owner." He later responded with a comment stating, "Next time I wont b so nice abt My privacy… cuz even tho I'm laughing abt it, I really feel disrespected … luv me a deal wid n luv makin… bless up." Is this an admission of guilt?
At this point, no-one knows what really went on between the two. That is between themselves, the four walls, and God. What can be said though is, the hotel can no longer be sued for negligence.