Dancehall powerhouse, Teejay has officially released his first instrumental from his new record label Top Braff Music. The beat which is entitled 'Top Braff' is Teejay's official debut as a producer and so the artiste has a lot riding on it.
The Uptop Boss has been having a great year, from his hit releases to his highly anticipated appearances. Just last month, he was left off of the Reggae Sumfest line-up but managed to redeem himself favorably at Montego Bay's Jerk Fest where patrons were beyond elated to witness the singjay's performance.
The first beat from Teejay's Top Braff Music label, "Top Braff Riddim," features the Uptop Boss himself and International Dancehall recording artiste, Shenseea on a track called "Car Seat." Also, acts like Ding Dong, Squash, and Vershon, among others were enlisted.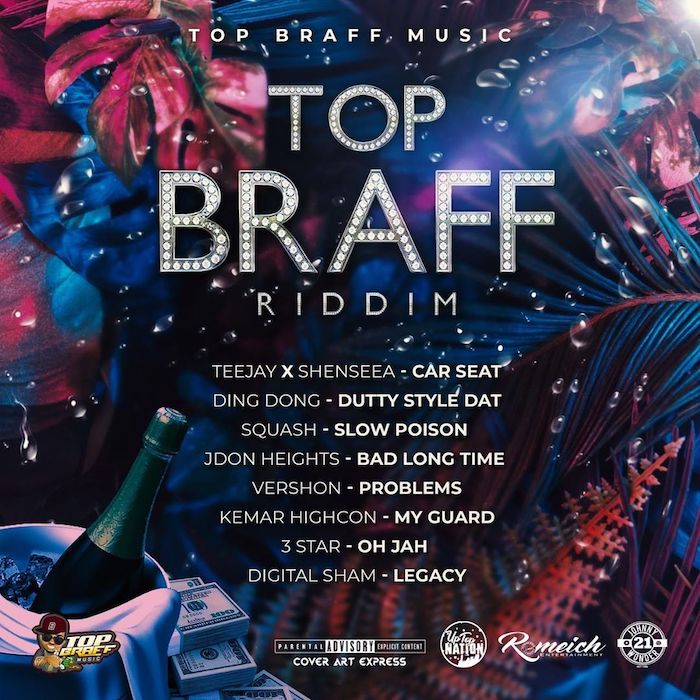 In a post shared to his Instagram, Teejay captioned the artwork for the official beat and tracklist, "New juggling out soon 'Top Braff' The first official juggling from @uptopboss_official label 'Top Braff Music' Powered by @romeichentertainment…" The image was also reposted by Shenseea herself, as well as Romeich, Ding Dong and other artistes.
One of the songs from Top Braff riddim, 'Slow Poison' by Squash is already being promoted and can be previewed on Teejay's official Instagram @uptopboss_official as well as Romeich's page @romeichentertainment and more. According to the Uptop Boss, this track will be out this Friday, August 23.
Teejay has always been an industrious talent with unparalleled perseverance and drive. The "Owna Lane" artiste was destined to be a producer himself eventually, and it is a proud moment indeed, not just for him but for the fans who have been with him from the jump. I personally cannot wait to hear all the tracks for Teejay's first riddim. Check out the preview of 'Slow Poison' below.