Busy Signal brings dancehall vibe to Israel.
Busy Signal has touched down in Israel to perform at a show tonight at the Hangar 09 Nightclub on Beit HaRishomim Street, in Emek Hefer. Earlier today the artiste posted two photos on both Instagram and Facebook, one of himself sitting and waiting at an airport and another of his luggage with the tags attached which read "Emirates" (airlines).
"Israel let's turn it UP!" he captioned that post, to which one of his fans on IG Angella X quipped: "Guidance. Signal needed all over the world to communicate."
On Facebook, there were a lot of well-wishers who urged him to have a safe journey while others pleaded with him to come to their country to perform. Three hours later, Busy appeared to have landed in the Holy Land. He posted a video of himself striding through the airport with his backpack held in front of him, and two other photos of himself standing in line, apparently at immigration, with a "Welcome to Israel" sign hanging in the background.
"Safe. Give Jah thanks!" he wrote.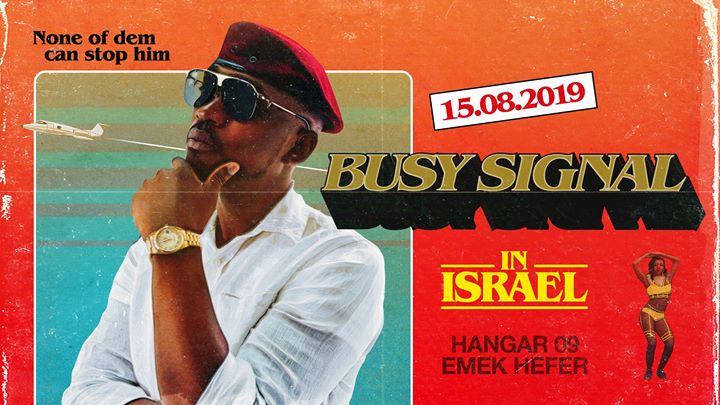 On the event poster highlighting Busy's imminent performance, which was posted online, the Israeli promoters sang the artiste's praises.
"Dancehall performance of the year! One of the leaders of modern Jamaican music comes for only one show in Israel this August. On the stage – Signal is an oiled machine of wavix/lyric and melodic melodies!!! He keeps himself with regular training and diet and is always there to give his fans 150%. Years have been talking about bringing him to Israel, and it seems that the summer of 2019 is finally going to happen and in a giant!! Let's be part of history and experience one of Jamaica's most exciting and energetic creators!" the poster noted.
Busy's performance in Israel is a part of his 25-date Volcanic Tour which began in France in July and spans Sweden, Italy, Spain, Germany, Amsterdam and Egypt and other places.
The Volcanic Euro Tour comes in the wake of his highly successful single Got to Tell You from his album titled Parts of the Puzzle.
Busy is not the first Dancehall artiste to perform in Israel. The genre has become popular in Israel over the last several years. In 2016, Dancehall Diva Spice performed in the country for the first time and expressed amazement about the reception she got there, as according to her Israelis knew her songs word for word.
Spice had even dressed conservatively for her performance, but her Israeli fans came out dressed in dancehall garb.
"I was a bit uncertain as to what type of songs to sing and how to deliver them, whether clean of raw. I was scared because I didn't know how they would react to lewd lyrics," the deejay said.
"They sang them with me, raw version too. I went there all covered, up thinking that this was Israel, the holy place, but the women were out there in short shorts, you name it, and acted like a regular New York City crowd or Jamaican crowd," she told the Star at the time.