Boosie Badazz has responded to critics of his pool and cucumber parties.
If you're a fan of Lil Boosie, then you would already know that he has no filter, and even if you're one of his loyal fans, he will chew you out on social media. The Baton Rouge rapper received some criticisms last weekend for his wild cucumber parties, but that is not slowing him down from hosting more of the similar themed parties all across the Southeast.
"Everybody who got something to say about my BOOSIE ESTATES topless pool party can 'S**K A D**K N DIE,'" he wrote in a tirade.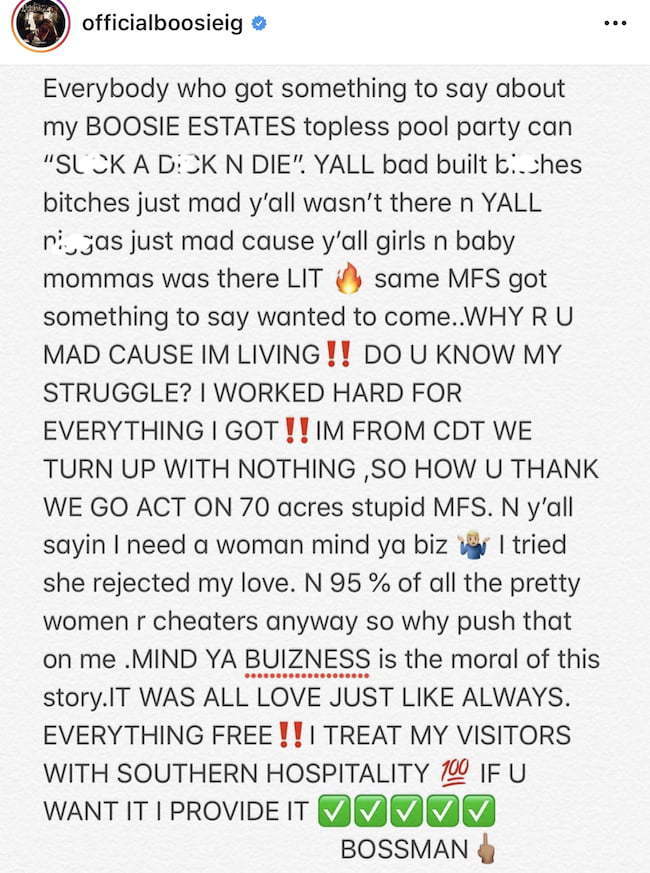 Boosie continues, "YALL bad built b***hes b***hes just mad y'all wasn't there n YALL ni**as just mad cause y'all girls n baby mommas was there LIT k(') same MFS got something to say wanted to come.. WHY R U MAD CAUSE IM LIVING !! DO U KNOW MY STRUGGLE? I WORKED HARD FOR EVERYTHING I GOT !! IM FROM CDT WE TURN UP WITH NOTHING, SO HOW U THANK WE GO ACT ON 70 acres stupid MFS."
This is not the first time that we've seen Boosie Badazz unleashed his fury at people or an entity as in the case of American Airlines. The rapper blast the airline for denying him and his kids boarding after they arrived at the airport late. He said the whole incident was blatant racism.