Keyshia Ka'Oir put Gucci Mane on notice that she is ready for a baby boy.
The wife of the Atlanta rapper said so on Twitter Friday afternoon, telling the world that she is considering nixing contraception. "I think it's time I get off birth control & have us the cutest lil baby boy," Keyshia Ka'Oir tweeted. Fans began to speculate on what the couple who've been married since 2017, would name their future son. Some fans suggested she name him "Gucci" while others said to use one of the rapper's spinoff names, Laflarre. Keyshia wasn't really feeling that idea.
"Laflare Davis ummmmm no," she said.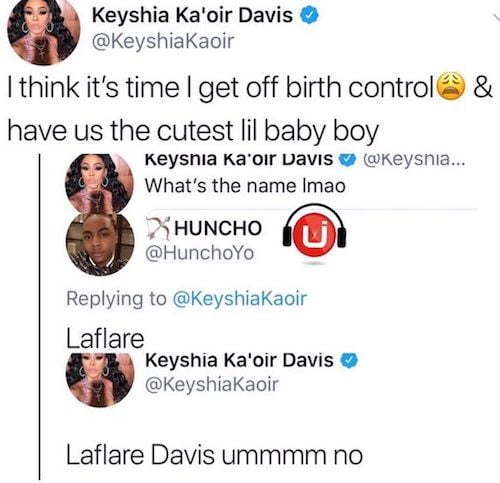 A baby wasn't the only thing on Keyshia's mind Friday. Earlier in the day, she took to Instagram and Twitter blast The Shaderoom for reporting that Gucci Mane settled a lengthy custody battle with his baby mama and agreed to dish out $10k a month. Although the Blast was the first to report the news Monday, Keyshia said those facts plus Gucci having to pay six figures in back child support payments were completely untrue.
The couple tied the knot in a reported $1.7 million Miami wedding that was broadcast on BET. Since then the two have been known to set trendy couple fashion looks and are often seen sitting courtside at NBA games. Rumors were swirling that Keyshia Ka'Oir was already a mom of three and she was hiding her kids in Jamaica, but she's publicly denied those claims as well. Gucci Mane has an 11-year-old son from a previous relationship, who he's been back and forth to court over missed child support.