Spice ran through Europe leaving the continent extra Spicy.
Dancehall Queen Spice has been storming through Europe like a champion, on her Summer Euro Tour. The stage boss has been burning up stages across the continent, and getting good love at the Uppsala Reggae Festival in Sweden, the same country where rapper A$AP Rocky is currently incarcerated. Spice shared some videos of her performance in Paris where a massive crowd of happy fans sang and danced along with her, throwing ice and rubbing cubes of ice on her doting fans. But it was Uppsala, it seemed, that the deejay, who was one of the headline acts at the festival, turned everything upside down. From all indications and the performance videos she posted on Instagram, the thousands of Swedes who gathered at the arena loved her onstage antics.
The Swedes seemingly knew how to 'ramp rough,' and at one point scores of fans swarmed onto the stage, at her invitation, where both men and women showcased their dancing skills, trying to twerk like her, some in sync to the music and others not so much. One woman even climbed up onto the stage truss, gyrating her body as Spice called on her to be careful.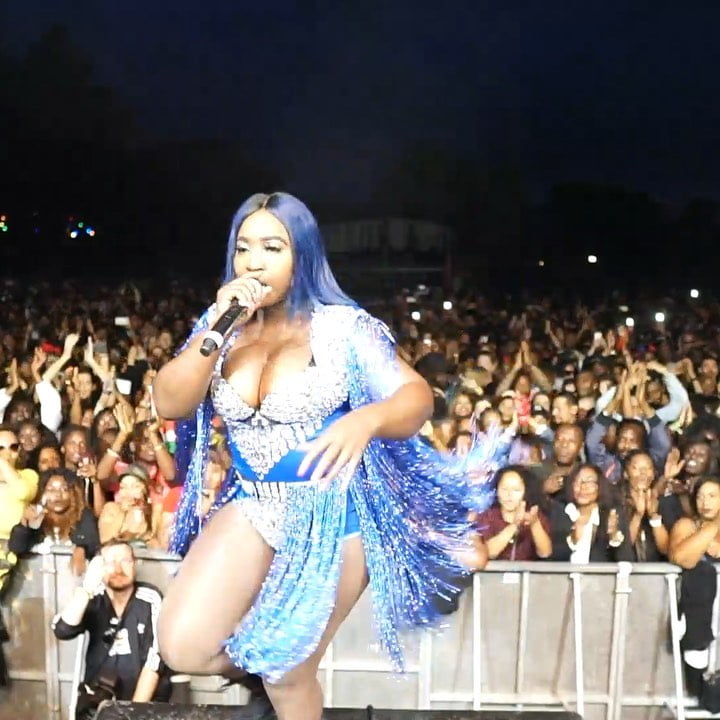 In another video, Spice interacts on stage with a dreadlocked Caucasian Swede who claimed he knew Patois, and that he was a "Yardie." Dancing to her Under the Sheet song, her dancers spread the customary white sheet, put the man to lie flat on his back after which Spice jumped on him spread-eagled and gyrated to the delight of the audience.
"Man said what he said. He's a yardie aka Jamaican and speaks Pais OK #Sweden was lit. He just didn't know I weigh 180 pounds," she captioned the video.
Interestingly, two days earlier, some fans had expressed worry about an attack on the African American rapper and cautioned her to be careful as a result. But it seems those attacks may have been reserved for that rapper only, because on Sunday, Spice clad in full orange, uploaded a video of herself in Uppsala the day before, striding purposefully towards a tour bus with a knapsack on her back, confidently declaring that she was in town and ready to entertain.
"Stockholm, the queen is here," she said.
She posted another shot of herself squatting on stage, smiling with her left hand raised, index finger pointing to the sky the multitude of Swedes mimicked her actions indicating their pleasure at the performance.
Spice was the lead Jamaican act at the festival which began on Friday and ended on Sunday. The event also featured fellow Jamaicans Jahmeil, Junior Kelly, Anthony B, and Horace Andy.