Rae Sremmurd rapper Slim Jxmmi has reacted to leaked photos of his eggplant.
Last week, Dave East almost broke the internet when his eggplant photos were allegedly leaked online. His female fans swarmed social media hunting for the photos but appeared to have come up empty-handed. This week, Slim Jxmmi started trending on Twitter for the same reasons, but it was quite the internet breaking episode that we saw from Safaree and Dave East.
Nevertheless, Slim Jxmmi is making the world know that he could care less if his private photos want to leak online, and he already has a good idea who did the leaking.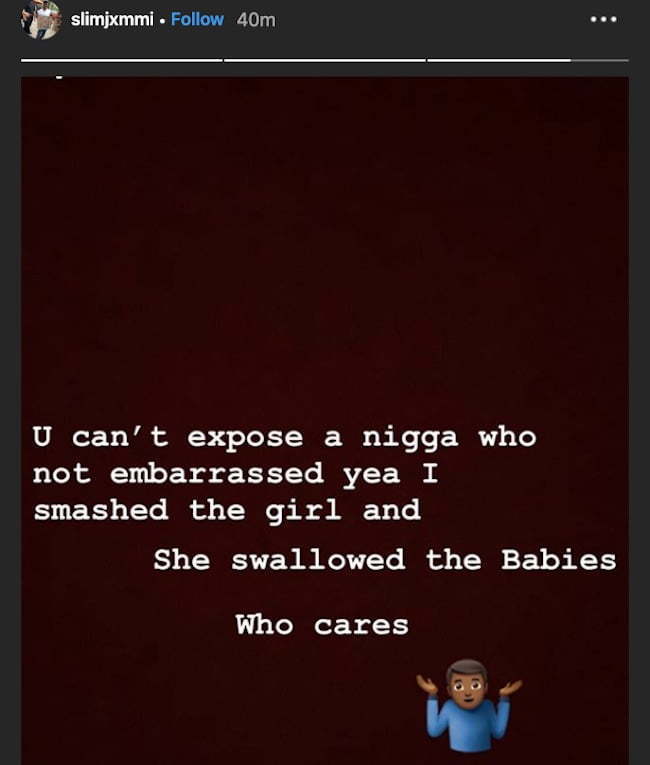 "U can't expose a ni**a who not embarrassed yea I smashed the girl and she swallowed the babies who cares," Jxmmi wrote in a message posted on his Instagram Story. He later added in a now-deleted post, "Tell I don't care and she got my lil d*** pics."
Swae Lee would've dropped the pics himself, but whoever the mystery female is, Rae Sremmurd fans are asking you to drop the content because Slim Jxmmi could care less.