Big Sean and Jhené Aiko have reunited amidst the success of her new single "Triggered (Freestyle)."
"Today was a good day" for Jhené Aiko as she gets to hang out with her man Big Sean. On Saturday (May 11), the R&B singer posted a photo of herself and her ex-boyfriend sitting on the rail of a lifeguard tower at the beach while sharing a laugh. It seems that there is no love lost between the two since they looked so happy being in each other's company.
Big Sean and Jhené Aiko dated for about two years before calling it quit last year. The breakup rumors started circulating when she suddenly covered up a giant tattoo of the rapper on her arm. While neither of them have ever spoken publicly about their split, her new single "Triggered (Freestyle)" appears to be a savage breakup anthem. "You motherf***in' right I'm bitter," she sings.
Last month, Aiko shared a comment on Instagram where she told Big Sean that she love and appreciate him.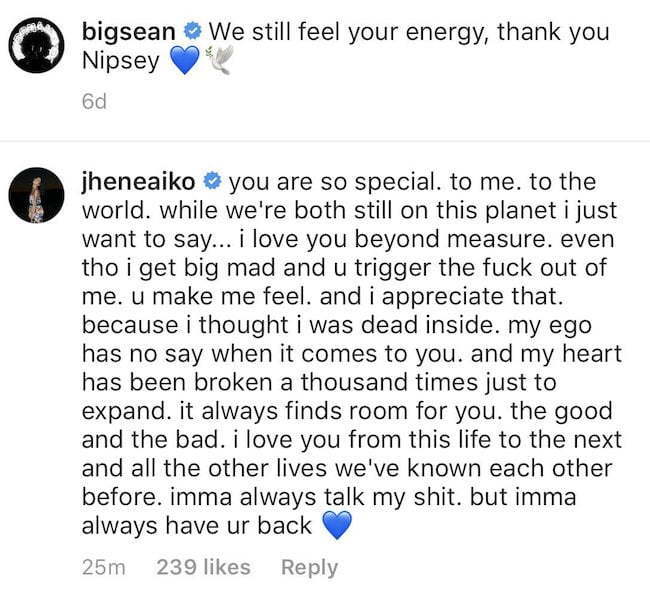 Jhené Aiko has since addressed reports that the single is a Big Sean diss track. "'triggered' was a moment. a moment that for me has passed. it is new to you because ur just now hearing it, but for me… it's something i moved on from the moment i expressed it," she tweeted.
"Triggered is NOT a diss song. it is a moment of talking sh*t out of frustration and passion. it's was a moment of exaggerated expression when I was feeling lost and weak. no one is to be blamed or bashed for how I was feeling in that moment. I am in control of my feelings," she added.
"triggered" was a moment. a moment that for me has passed. it is new to you because ur just now hearing it, but for me… it's something i moved on from the moment i expressed it.

— Chilombo (@JheneAiko) May 8, 2019
triggered is NOT a diss song. it is a moment of talking shit out of frustration and passion. it's was a moment of exaggerated expression when I was feeling lost and weak. no one is to be blamed or bashed for how I was feeling in that moment. I am in control of my feelings.

— Chilombo (@JheneAiko) May 8, 2019
this is how I paint. this is me yelling and throwing paint at a canvas… then going out into the world feeling less tension, more open… more loving. going to bed feeling less stressed, more optimistic.

— Chilombo (@JheneAiko) May 8, 2019