Jhene Aiko says she has pushed back her album due to the death of Nipsey Hussle.
The R&B singer confirmed on Instagram that she was planning to drop off a new album sometime this month. On Monday, a fan asked her for some new music, and she confirmed that she has decided to delay it a bit to honor the late Nipsey Hussle, who was shot and killed over a week ago in Los Angeles. "Girl can we get some music," the fan asked.
"Out of respect for Nipsey, I will be postponing the release of the new music I planned on releasing this month until I feel the time is right," Jhene Aiko responded to the fan. "I want to take this time to remember and reflect on the life of the legendary Nipsey Hussle. Thank you for understanding."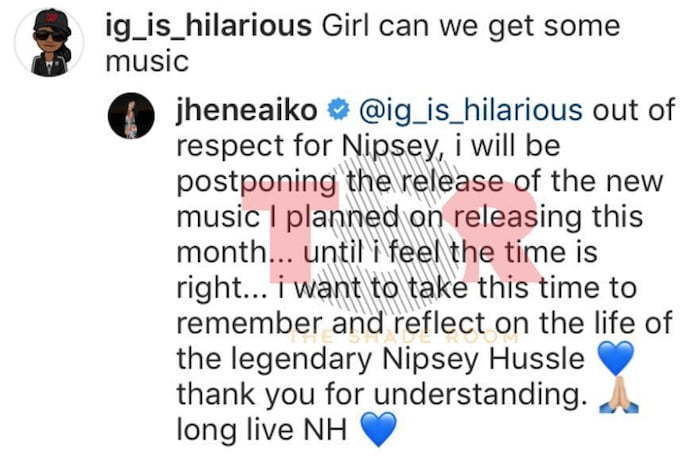 Other artists including YG have announced that they're delaying their projects in honor of Nipsey Hussle. The Victory Lap rapper was shot and killed while standing with friends outside a clothing store he owns in Los Angeles. His memorial service is set for Thursday, April 11th at the Staples Center in L.A. The memorial service is free for fans to attend and tickets are limited.
A week ago, Jhene Aiko paid homage to Nipsey on her Instagram saying that the late rapper motivated her just like he did so many of us. "You so inspired me, motivated me, you made me so proud to be from the same city," she wrote. "I am honored to have known you and so thankful that you always showed me love and support. People always thought u were one of my brothers and in a way, you are. My heart is so heavy. We really lost a gem. L.A is weeping."