Vybz Kartel has been venting his frustration on social media a lot more lately.
The Gazanation deejay has been incarcerated since 2011 when he was arrested in Kingston and slapped with a double murder charge. He was eventually acquitted on one of those charges and convicted for the second one in what turns out to be the longest murder trial in Jamaica's history in 2014. After years of waiting on his appeal, the case was finally aired in July last year. The deejay and his three co-conspirators have been awaiting the verdict in the appeal since then, so his frustration is understandable.
In a post on Instagram Story, Vybz Kartel lashes out at the justice system while threatening to take his appeal case straight to the high court in the United Kingdom.
"4 months of trial wid 6k page a transcription, then unuh take one hour fi cook up man and convict.. one f***in hour! now we affi wait one year fi appeal?" Kartel wrote. "Fool unuh take man fa but hurry up and finish unuh crucifiction so we can get real justice a UK me never stop bun boasty slave."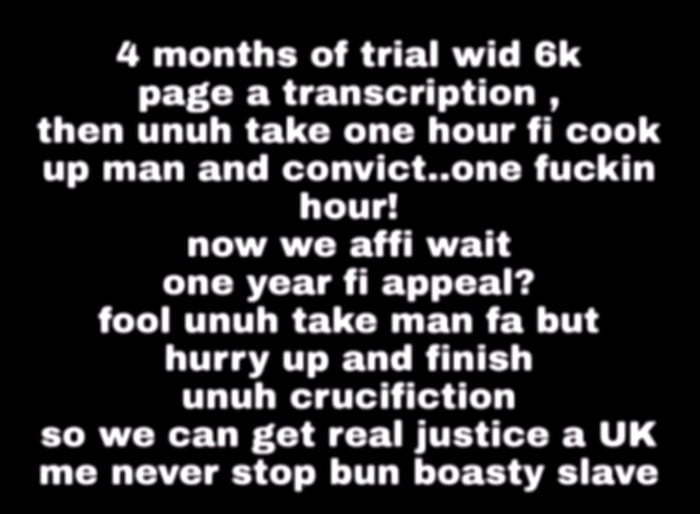 Most Vybz Kartel fans were hoping that the appeal court would've rendered a verdict by December of last year. One of his defense attorneys later added that he was hoping that a verdict would be reached by March of this year. Clearly, the fans are not the only ones frustrated by the lengthy wait. The dancehall star is also uneasy.
Perhaps Kartel saw what Buju Banton did last weekend, and felt like he can come out prison and accomplish the same or even greater.
Vybz Kartel, whose real name is Adidja Palmer, Shawn "Storm" Campbell, Andre St. John, and Kahira Jones were all sentenced to life in prison for the murder of Clive "Lizard" Williams. The four men appealed the case on the grounds that authorities tampered with the evidence and intimidated witnesses, among a slew of other things.