Vybz Kartel suggests someone might have cast a voodoo spell on him.
Which dancehall artist is responsible for casting "obeah" on Vybz Kartel? The Gaza boss is suggesting that his enemies in the music industry is trying to take him out or slow him down, but it's not working. The deejay suddenly fell ill last weekend and had to be taken to the hospital for treatment. He was admitted on Sunday and discharged on Tuesday. His attorneys say he has a lingering thyroid issue that has been brought under control.
In true Vybz Kartel style, he has been sounding off on Instagram about, and he is mincing his words. Not only did he thanked the doctors and nurses who came to his aid, but he also took a few shots at his enemies in dancehall.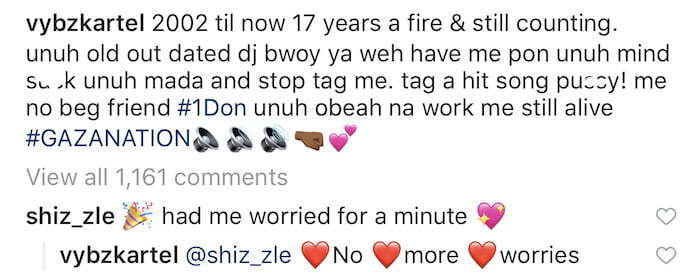 "2002 til now 17 years a fire & still counting," Kartel wrote. "Unuh old out dated dj bwoy ya weh have me pon unuh mind s**k unuh mada and stop tag me. tag a hit song pu**y! me no beg friend #1Don unuh obeah na work me still alive #GAZANATION."
One of Vybz Kartel's loyal fans wrote a comment that the deejay cosigned. "Oh word the pu**y them really a waste them money pon OBEAH for real me DJ a try get you out? Shake my head I was wondering what happen to you for the pass few days shake my head, speedy recovery me G."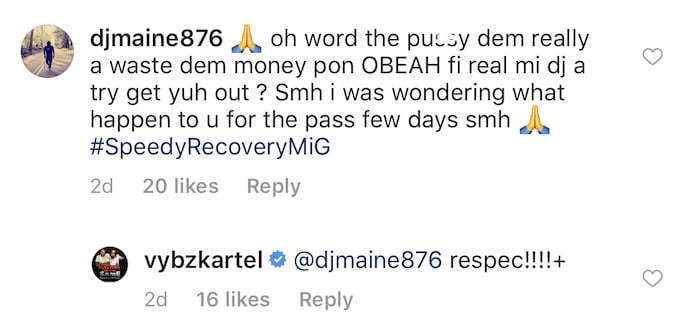 Kartel responded to that comment saying, "respect." Some fans are already suggesting that Beenie Man is the person who Kartel is referring to. The two deejays have been going at it on Instagram for the past two weeks over who is the "King of Dancehall."
Vybz Kartel managed to get mainstream TV recognition of the king of the genre, while Beenie Man is insisting that he is the king because he put in the work.