Kodak Black is feeling hyped today.
The South Florida rapper went on Instagram to clarify his statements last weekend at a show in Miami where he disrespected Lil Wayne. Instead of clearing the air about what went down, Kodak Black only made things worst after Weezy's baby mama Toya Wright and his daughter Reginae Carter both took turns to hammer him on the Gram. Toya wrote in the comments on Shaderoom a big, "f*** you boy."
Kodak responded to the comment saying, "@toyawright If I Ain't Have No Girlfriend I'd F**k Da Sh*t Out Yo Fine Ass #HappyNewYears #GodBless."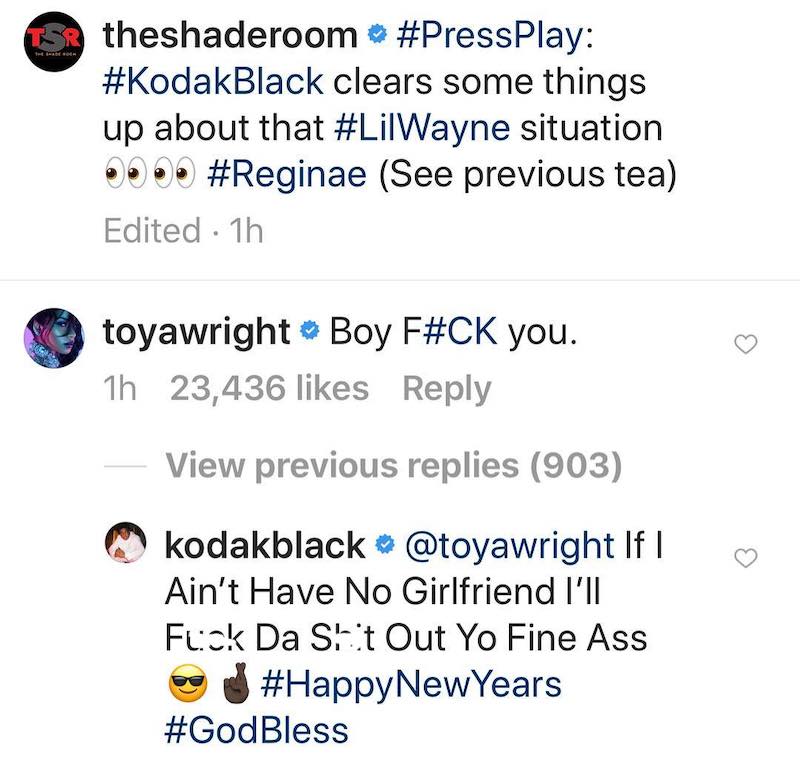 Clearly, Kodak Black is not in the mood to chill as advice by some of his loyal fans. It appears the shots from Toya and Reginae were too much for him to ignore. Perhaps he needs to take a page out of Lil Wayne's book, just ignore the drama and drop dope music.
The problem for a lot of young rappers is that they are relying too much on shock value to bring attention to their music, and often we see their use of controversy backfiring or ended up getting them thrown in jail. Kodak Black appears to be backpedaling off dissing Lil Wayne, but the damage has already been done.
The best thing for him to do now is just to offer up an apology and move on because his actions thus far are only making the situation worse for him and are likely benefiting Weezy who recently dropped off his long-awaited album, Tha Carter V.