Future is the real MVP.
The Atlanta rapper brought his baby mama, Brittni Mealy, to his new baby mama, Joie Chavis, baby shower last night and immediately Brittni got trolled savagely on social media. Some fans outright call her dumb for going to the baby shower with Future, while others suggest to her that she is getting played. It turns out that she doesn't believe any of the above and is more than happy to support her baby daddy knocking up Bow Wow's ex-girlfriend and baby mama.
"Future got one baby mama following behind his tail to go to another baby mama shower am I the only one who thinks Brittni is a tool?" one fan wrote. The rumors have been floating around for months that Future is the father of Bow Wow's baby mama Joie Chavis' baby. However, this is the first time that we're getting confirmation that the Freebandz MC is, in fact, her baby daddy. Chavis is the second ex-girlfriend of Bow Wow that Future is knocking up.
Brittni Mealy has since responded to the trolling with a message of her own posted on her IG Story. "People do what they have to do to protect their assets it's too much money at risk," she wrote. Some fans were still not buying her explanation which only raised more questions than she wants to answer.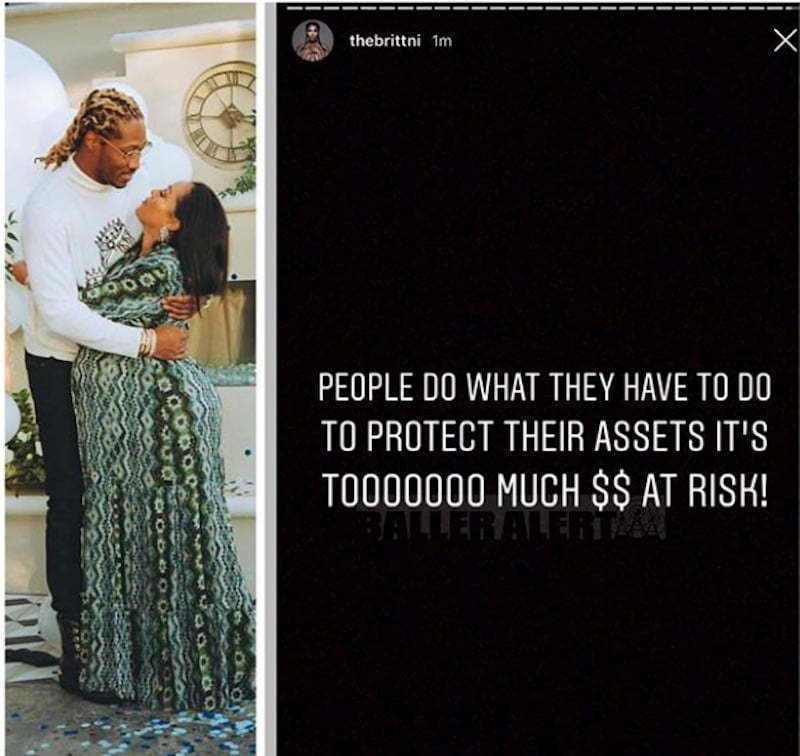 "If he was protecting his assets he wouldn't have been having sex with her unprotected, bye slow mo… she's having his child you slow," one fan wrote while another added, "Exactly and it Ain't that much money in the world to let a man constantly disrespect and embarrass you."
Future and Joie Chavis were inseparable last year with the rapper regularly posting her on his SnapChat. The two broke up over the drama of his cheating allegations. A few months later she debuts her baby bump, which some fans call her insurance policy for the next 18 years.