JAY-Z confronted Offset over a new song about his wife, Beyonce.
By now you would've already seen the video clip that went viral. The clip shows JAY-Z getting up in Offset's face backstage a concert, and while it may look harmless to some of you, some sources are now saying that it wasn't. Apparently, the Migos rapper has a new song coming out titled "She's My Beyonce" in reference to Cardi B. At least that's what Allhiphop is reporting on the story that Urban Islandz broke last night.
The title of the song may seem harmless to most of us but maybe not for JAY-Z and Beyonce who was right there when he backed Offset down into a corner. Using someone else's brand in your work can be a problem regardless if you have good intentions or no, especially a brand as big as Beyonce. Additionally, the Atlanta rapper will be putting Cardi B on the same level as Queen Bey, and it seems like Hov is having none of that.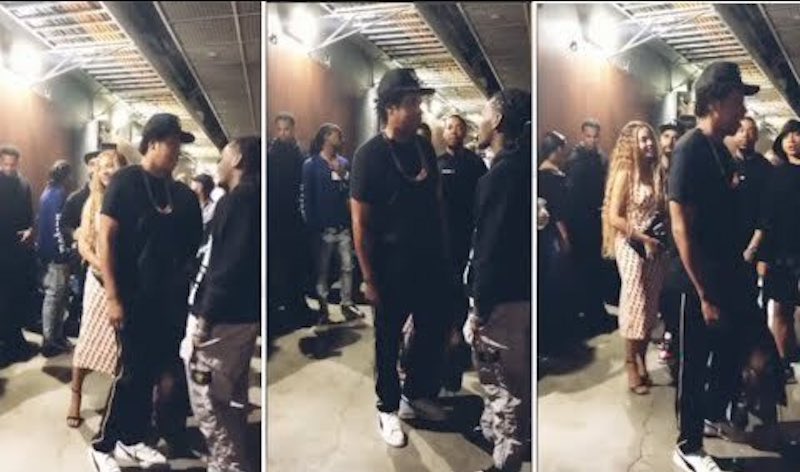 Are they going to fight over it? Very unlikely, but that doesn't mean that Offset and Cardi B is happy about what JAY-Z did to show him up like that. We all know that Hov is very protective of his wife and every husband should be that protective of their woman. But doing it in the public domain like this is sure going to cause some tensions.
I don't think that the Hov has a problem with Cardi B either because we've seen videos of him touching her baby bump and also seen photos of Beyonce and the "Bodak Yellow" rapper together, so there may be no other issues between both sides. Nevertheless, all of this is still pure speculations right now so take it with a tiny grain of salt. Here is the video at the center of the controversy.