Vybz Kartel thinks that Mavado is behind fake pages which are trolling him on Instagram.
Last week, a Gullyside fan went after Vybz Kartel on Instagram and got burn in the process. The page is private, so if you're not a follower of the person behind it, you won't know if it's a fake page or a real one. Nevertheless, the fan, whose handle is @sashaberry_gullyqueen, managed to get Kartel's attention when she left a comment calling him out over Clive "Lizard" Williams murder and for being on social media while in prison.
One of Kartel's fans suggested that he should ignore the troll because it could be a fake page, and the deejay responded saying that some DJs like to create fake pages. "Dem DJ bwoy ua love mek fake page." Urban Islandz reached out to sources inside the Gaza camp who told us that Kartel wasn't saying that Mavado was behind the page, but says it remains a possibility.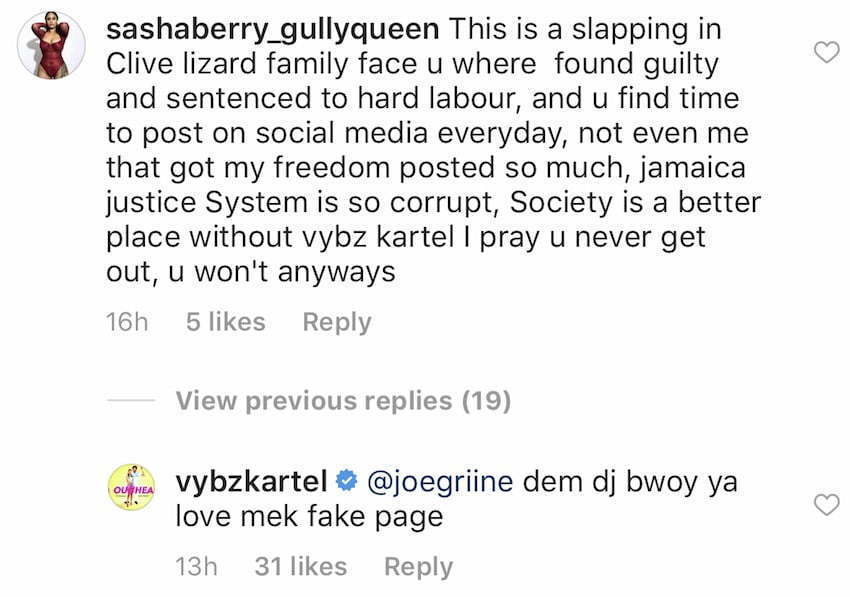 "A nuff of these artists like to create fake page and comment on Worl'Boss post them because a lot of them are haters, him never call any names but them know themselves," our Gaza source said. While Kartel didn't mention any artist by name, the Instagram person's Instagram handle clearly points to someone who is a fan of Mavado and the Gullyside squad.
Our Gullyside sources are saying that Mavado is not behind the page nor does he hide behind any fake pages. "The Gad have bigger things to deal with right now than to create fake page and comment on Instagram," sources told us. "Them man deh no spend them day on social media, them man deh busy a make money to feed his family and make boss moves. We no have no time for them foolishness there."
Perhaps the page is just a fan speaking her mind, or maybe it's an artist trolling Vybz Kartel.