50 Cent and Drake might have some new beef brewing.
50 Cent took aim and swipe at Drake is his latest round of social media trolling. It's already stale news that Drake was Conor McGregor hype man at last weekend's UFC fight against Khabib Nurmagomedov which he embarrassingly lost and almost got choked out. Luckily for him, he decided to tape out or else it would've been lights out or a broken neck. Clearly, Drake was not happy about the loss, and 50 Cent was having a field day about it.
The G-Unit rapper posted a photo of McGregor on Twitter with Drake face on his body. He captioned the photo, "Nah f*** that we want a rematch." We still don't know if 50 Cent is a supporter of Khabib or if he is just happy Conor McGregor lost the fight no matter who was his opponent. Drake just happens to be in the crossfire and given how big he is in hip-hop right now, he serves as a big target for Fifty.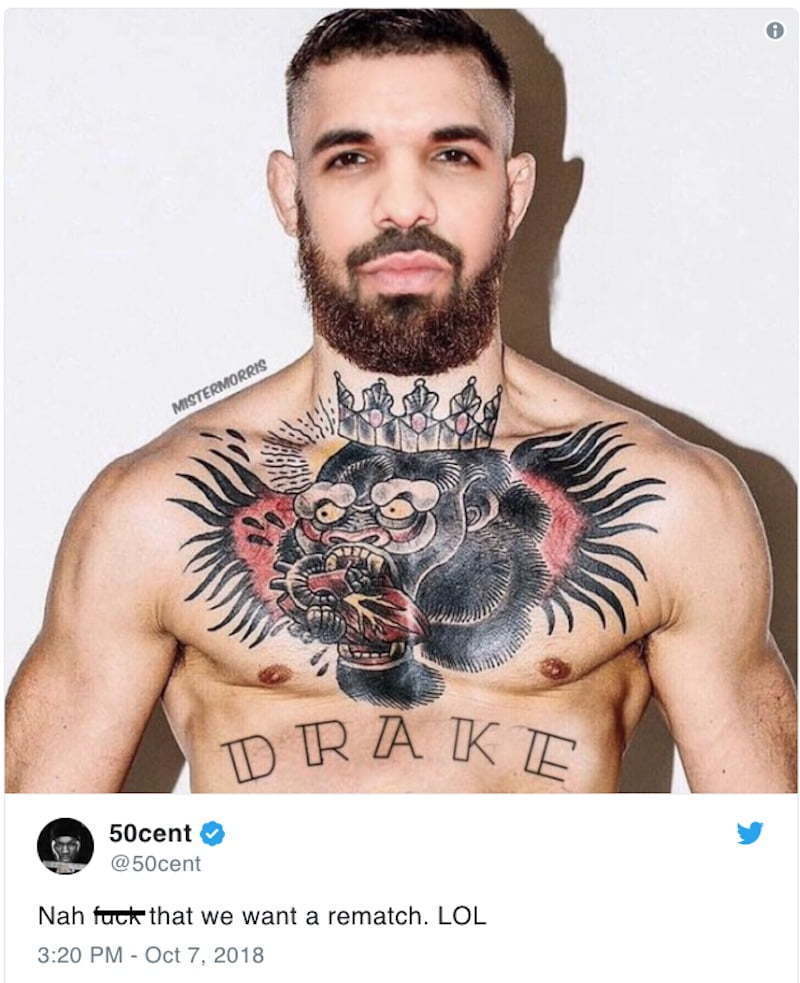 Drake also got some trolling from folks at the BET Hip Hop Awards last weekend for his support of the Irishman whom some folks are calling a racist for calling Floyd Mayweather a boy.
Additionally, a video surfaced online over the weekend showing Drizzy on the hunt for Khabib and his crew after the two camps allegedly exchanged words. Knowing Drake, it's absolutely certain that he will be taking a swipe back at 50 Cent on his next song.