Lil Baby is expecting another child with his girlfriend Amour Jayda.
Rapper Amour Jayda, aka Jayda Cheaves sent her fans into a frenzy on Tuesday when she announced that she is pregnant with her first child. The young hair entrepreneur has been rumored to be pregnant for the past several weeks and on her 21st birthday, September 25th, she posted a photo of herself on Instagram and confirmed that she is pregnant. "By far the BEST birthday #21 #21," she wrote with a baby emoji.
Lil Baby and Jayda's relationship has been on the rocks in recent months. In April of this year, he confirmed on IG that he cheated on her with his baby mama. "You want someone to know I fu**ed you, well yes I did!! But you trippin none more none less!! Ain't no way you go try ruin my relationship!! We happy dawg!!" he told his baby mama after she tried to aired him out on social media.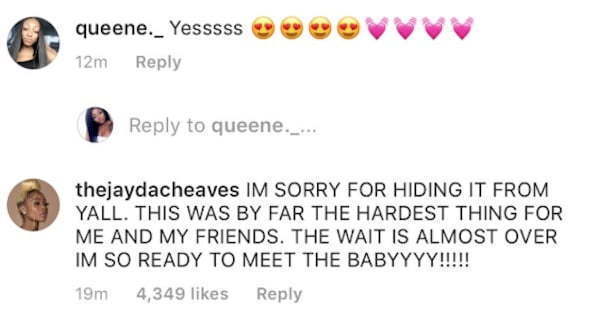 In August, Jayda revealed that she went to Lil Baby's house because she heard that he had another girl there and found out it was true. When her followers asked her about her pregnancy, she said, "I'm sorry for hiding it from Y'all. This was by far the hardest thing for me and my friends. The wait is almost over I'm so ready to meet my baby."