Vybz Kartel shares a clip of the moment when Bounty Killer changed his life forever.
Vybz Kartel is one of the biggest names in the history of dancehall and so is Bounty Killer, but the difference is Bounty brought several big names to the forefront of dancehall including Kartel, Mavado, Busy Signal, and more. The incarcerated deejay shared a video clip of the first time that Killer called him on stage at a show and introduced him to the masses.
It was 18 years ago in the year 2000 when Bounty Killer was performing in front a massive crowd he paused and called out Vybz Kartel on stage. "You know say right now anywhere me go I always have to introduce somebody, Vybz Kartel come out," Killer said before the Gazanation leader walked onto the stage.
Bounty also shared his reaction to the video clip calling it a trailblazing moment in dancehall. "Trailblazing moment kicking down the doors," he wrote in the comments before adding, Well it's safe to say that he is the only one that follows the trail and blazes it for other to come through also enuh I salute that move."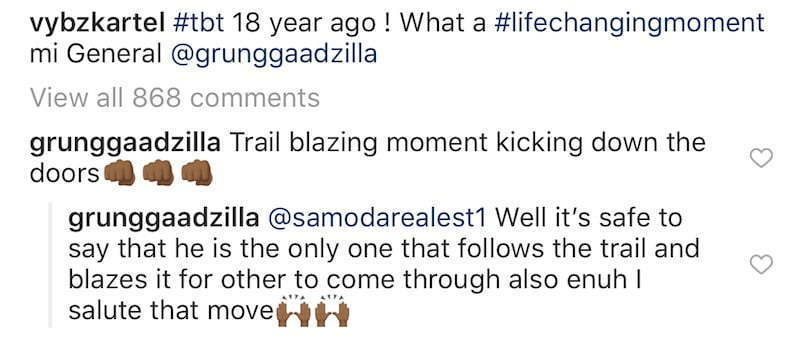 Vybz Kartel went on to become a household name in dancehall and one of the best that ever picked up the mic. Like Bounty Killer, Kartel also gave rise to a new generation of big names in dancehall including Popcaan, Tommy Lee Sparta, Vanessa Bling, and more.
In the mid-2000s, Vybz Kartel and Bounty Killer had a bitter fallout that lead the now incarcerated deejay to leave the Alliance, a vibrant group that Killer founded. The split between the two artists also formed the catalyst for one of the biggest rivalries in dancehall's history, the Gully/Gaza feud between Mavado and Vybz Kartel. That war span the greater part of that decade.
https://www.instagram.com/p/Bnm4AgLl362/