50 Cent says a stripper gave him some poor customer service, so he took his money back.
50 Cent went viral over the weekend when a video showing him savagely taking back his money from a stripper in the club. The G-Unit rapper is not only a legendary troll on social media, he is also savage when he goes to the strip club. The Power actor hit up Angels Club in New York over the weekend where he was hosting a party with his crew.
The below clip shows 50 Cent and his crew making it rain in the famous club, but fast forward later in the night you will see him scraping up all of his cash. The clip went viral on social media forcing him to address what really went down. Fiddy says it's plain old simple poor customer service why he took his money back from the stripper who worked her ass-ets off for him all night.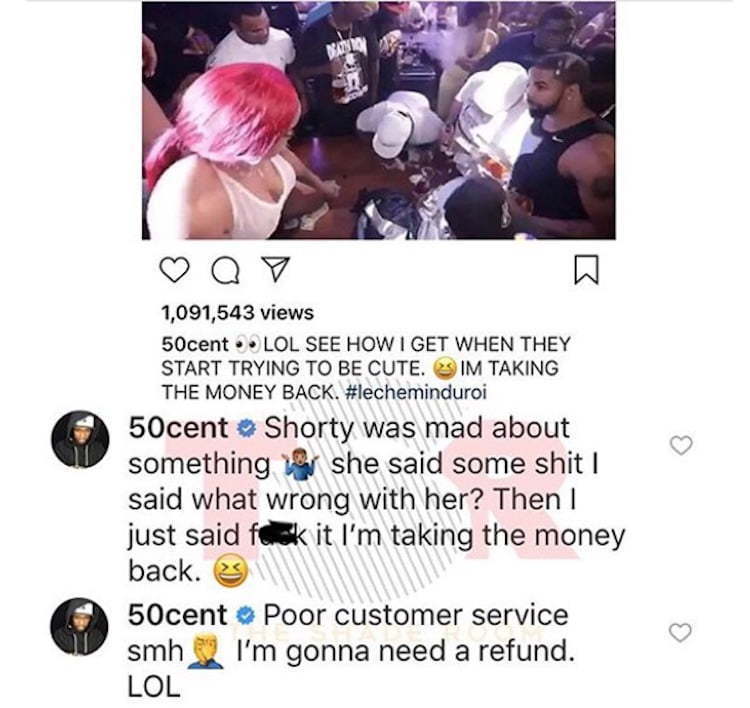 "Poor customer service shake my head, I'm gonna need a refund lol," he wrote on Instagram. He added that the girl was mad about something and he was inquiring what's wrong with her, but then he just said forget it and take his money back.
50 Cent has been getting criticized on the Gram for being cheap, but he could care less what anyone has to say. Bottom line, he got paid to be at the club, and he enjoyed himself making it rain and then pocketed all the cash he used to make it rain. It doesn't get anymore savage than that.
In case you're second-guessing how savage 50 Cent is, then check him out this weekend in Power. You can also follow him on social media, and you will get a glimpse of the things he does on the daily like troll over the celebrities like Diddy and Floyd Mayweather.
50 Cent savagely taking all his money back in the strip club. ??? pic.twitter.com/X4F0Vi6f0P

— Urban Islandz (@urbanislandz) August 7, 2018