Spice managed to draw Foxy Brown into her petty fest during Nicki Minaj's BET Awards performance.
On Sunday night, Nicki Minaj nailed a performance of "Chun-Li" and "Rich Sex" after performing "Big Bank" with YG, 2 Chainz, and Big Sean. Spice, who is a huge fan of Nicki, posted a video clip of a piece of her performance on her Instagram. In the clip, the dancehall diva pointed her cell phone camera towards Remy Ma and Papoose who were in the audience looking on while Nicki nailed her BET Awards performance.
"First time watching my idol live performance [Nicki Minaj] KILLED the BET Awards #B*tchibeenon," Spice wrote. Not surprisingly, Nicki commented on the post saying, "I'm obsessed with you." The Love and Hip Hop Atlanta star then responded saying, "I'm obsessed with you too. You killed It blooodclaat clean sweep #barbforlife."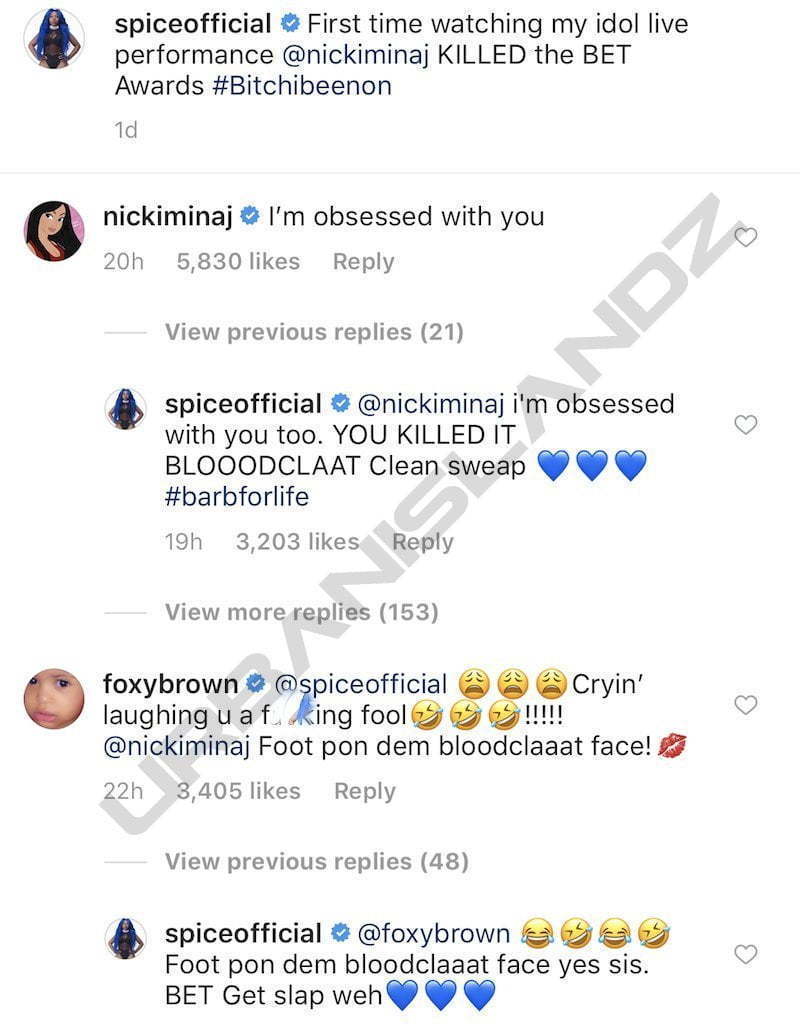 Foxy Brown also chimed in on the trolling of Remy Ma in the comment section. "Crying laughing you a f***ing fool [Nicki Minaj] foot pon dem bloodclaaat face!" Foxy wrote. Of course, Spice agrees with every word saying, "Foot pon dem bloodclaaat face yes sis. BET Get slap weh."
Spice fans have also been trolling Remy Ma relentlessly since she uploaded the video to social media. "Remy you tried it last year and it didn't work now look who had the last laugh. You had a whole year to put out an album or some new music and all we hear is crickets and now Nicki killing the game once again," one fan wrote.
"Remy Ma and her man looking like two miserable haters in the crowd sh*t look depressing if you ask me, c'mon she was only relevant when they were beefing, Nicki shouldn't give this b**ch any attention," another fan added. "The Queen came back to rule so sit your bum azz down."