Nas new album Nasir is now out and Twitter is reacting to it calling it a classic.
The New York rap legend hosted his listening party on Thursday night right next to the Queensboro bridge in his hometown and a bunch of his celebrity friends came out including Kanye West who produced the album. The project comes with seven songs and this is a classic case of quality over quantity because these are seven songs that you will listen to over and over.
Kanye West has been a part of three albums in the last three weeks. First, he released his new album Ye to rave reviews and the following week, he released a joint album with Kid Cudi, Kids See Ghost. Now we have Nas highly anticipated new album Nasir and Kanye handled the entire production.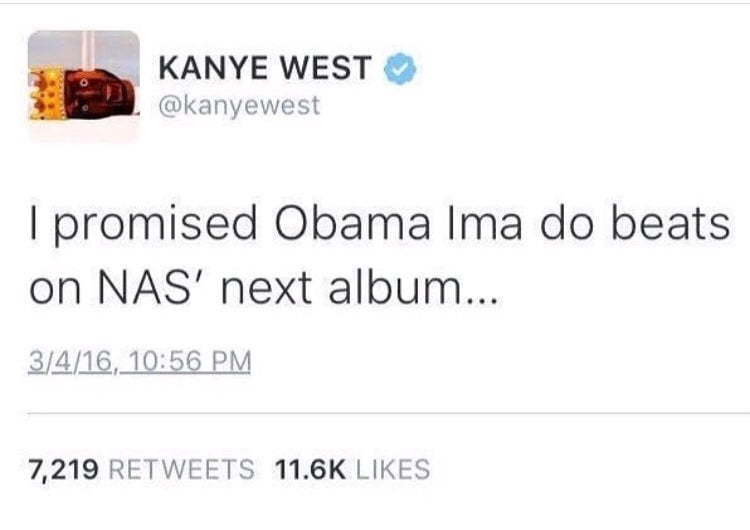 One of the things that a lot of folks on Twitter are talking about is the quality of the production. With any Nas album, you can expect razor-sharp lyricism and this project is Escobar on steroids.
"I'm holding my commentary on #Nasir because I really need to digest these lyrics," one fan wrote. "But the production is dope. Not "immediately jump out at you dope" but that slow head nod that eventually turns to."
The Kids Are Our Future. NASIR out everywhere tomorrow! Executive Produced by @kanyewest #NASIR pic.twitter.com/gpRUBT7FPU

— Nasir Jones (@Nas) June 14, 2018
I'm holding my commentary on #Nasir because I really need to digest these lyrics. But the production is dope. Not "immediately jump out at you dope" but that slow head nod that eventually turns to… pic.twitter.com/hH32pGNRzY

— Andreas Hale (@AndreasHale) June 15, 2018
The fact that the BARS are on fire, should be NO surprise.. He IS @nas (One of the greatest MC's ever.) #Nasir

— DJ CLARK KENT (@DJClarkKent) June 15, 2018
Anyway, the production on #Nasir is A-1. ??? pic.twitter.com/TCHFUO1iQM

— King of R&Comeback (@Gabriel_Will1) June 15, 2018
@Nas #Nasir is showing everybody that may have slept on you the past few years that you haven't gone anywhere. Still the lyrical goat and blessed to see you doing your stuff still and keeping to that OG Hip-Hop. Plus that @kanyewest production is nasty. So thankyou ? pic.twitter.com/cTdwabA85S

— Alessio_Swainbank (@AlessioGS99) June 15, 2018
@Nas will forever be a king among men in the rap world. I am soooooo ready for this album ?????????????? #NASIR

— ????? (@brialikescoffee) June 15, 2018
This album proved why you're one of the goats. Thank you king @nas #nasir ??

— durag dani (@DaniGetCrunk) June 15, 2018
Yooooo Ye came with some nice bars on that last track.. "how do we report crime if 911 doing the drive by" ? #NASIR

— [|] (@Pasha_T_) June 15, 2018
Run that shiit BACK! #Nasir pic.twitter.com/qLgYlivoOm

— Tony Williams (@TWFTonyWilliams) June 15, 2018
@Nas thank you sir. A breath of fresh air and motivation for millions. There's power in your message. #Nasir Hip Hop thanks you.- VERN

— VERN (@Vernonb1128) June 15, 2018
Nas and Kanye West

The cops shot the Kid

#NASIR pic.twitter.com/uNO8NJb9Ix

— daniel rodger (@DanielsLiving) June 15, 2018
#Nasir been on my iPod for 10 yrs so Kanye can't act like he introducing me to something new. Some of y'all suburbanites just started listening to rap & need someone to lead y'all to the water. The Nas I knew would've went at Kanye head for them bogus comments about slavery.

— TruthBeTold (@Big6domino) June 15, 2018