Vybz Kartel's Gaza fans are trolling Mavado on social media for allegedly running to the police.
Last weekend, the Gully Gad was shot at in Cassava Piece following a fight with another man believed to be a don in the community. The incident could've ended badly for the entertainer but thankfully he escaped the hail of bullets with getting hurt. Mavado ran from the shooting scene to the Constant Spring Police Station where he filed a report. Police officers are actively investigating the incident and so far they've made one arrest. The dancehall singjay says some of what's being reported in the media is not true.
Now Vybz Kartel's Gazanation fans are trolling the Gullyside singjay on social media. This is straight out of the infamous Gully/Gaza feud playbook from the mid-2000s and all of the fans making fun of him are on the Gaza side of the divide. Vybz Kartel famously releases a diss track for Mavado name "Don't Run."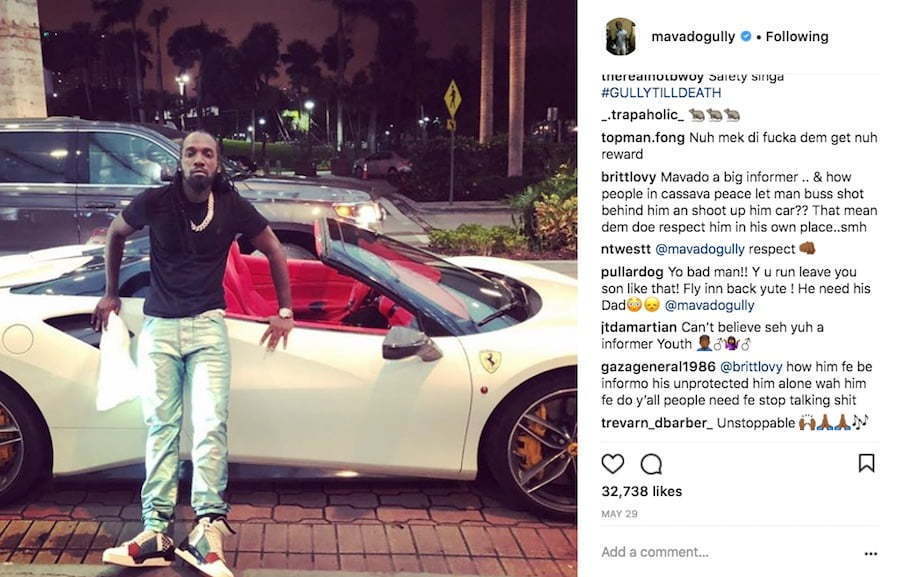 "Di bwoy run like a wounded dog / Bruk Usain record / Don't run barber bwoy don't run / Di bwoy dress up like police / And a run like thief," Kartel deejays. Now the incarcerated deejay's fans are trolling Mavado using the same line.
"Informer bwoy run go police station, barber bwoy don't run, long time we know say yo a coward Gully idiot yo," one fan wrote on Mavado's Instagram. One fan even suggested that Mavado ran leave his son behind when he flew from Jamaica to Florida earlier this week.
Man dem shoot after mavado today and him affi run leave him car ??????

Barber by doe run

— Chä Chä Bwoy (@jevonne_) June 4, 2018
She lucky. Mavado push the idea that he's a gangsta fa life and him a beat them wid belt buckle. But behold, last man standing is such a relevant song right now. https://t.co/FVcH8aLmnQ

— Quiet Weapon (@JadzIsKing) June 4, 2018
Next time Mavado sing a song seh them a fight him so hard and how him blessed and all these things believe him, him next song fi name me lucky ?

— Meech Hive Bzzzzzz ??? (@NigelBigMeech) June 4, 2018
https://twitter.com/jadachanelx/status/1003431476422234112
https://twitter.com/1Lemz/status/1003258498216550400