Tekashi 6ix9ine is trolling Chief Keef but has denied having any involvement in the shooting incident.
Chief Keef has already high tailed it out of New York City after showing up in the Big Apple amidst a heated beef. Within hours of his arrival in NYC, two men fired shots at Sosa outside a hotel but he got away scratch free. Now his rap rival Tekashi 6ix9ine is taunting him on social media which means this beef could escalate even further.
The Brooklyn rapper posted a meme on IG claiming that he brought his career back from the dead. "I've brought u back from the dead. Welcome back," he wrote. Tekashi69 is also claiming that he is the reason why Chief Kee's song "Love Sosa" has increased by 200% in streaming.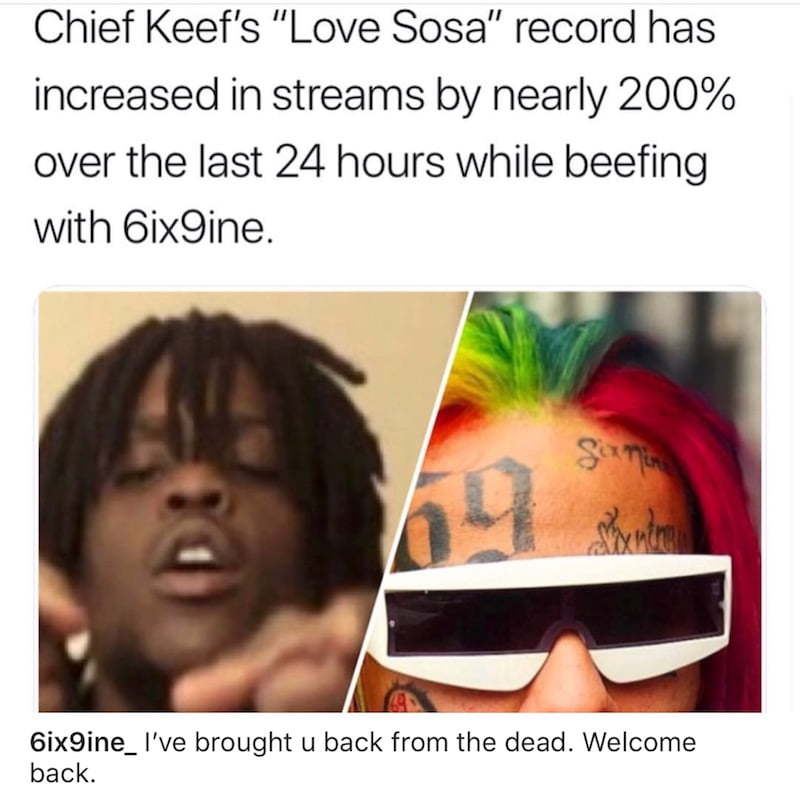 A TMZ photographer caught up with 6ix9ine in L.A. this morning and asked him about his alleged beef with Fetty Wap and his issues with Chief Keef and again he went straight into trolling mode. He did say Fetty is his brother and shot down any reports of a beef with his collaborator. As for Keef, the "Kooda" rapper said, "Am a big fan of Chief Keef, how much do you think a feature cost from Chief Keef?" He ended the interview by rapping a part of the "Love Sosa" single.
Tekashi 6ix9ine even posted a screenshot of an alleged statement Chief Keef gave to reporters in New York after the shooting.