Spice gets immortalized in meme after she savagely took a swipe at Tokyo Vanity on this week's episode of Love and Hip Hop: Atlanta.
Since becoming a supporting cast on the hit Love and Hip Hop franchise, Spice has become a huge hit among fans of the show. From her exotic Jamaican accent to her fiery personality that got her into a few fights on the show, fans seem to be loving all things Spicy until this week's episode when she fat shamed Tokyo Vanity. Spice became a trending meme on social media because of the clip below from the show.
Dancehall deejay Shenseea who is close friends with Spice weighs in on social media to give the meme their best caption. "DO me a beg unu fi caption this and it afi be really PETTY! I can't stop laughing at this expression," Shenseea wrote.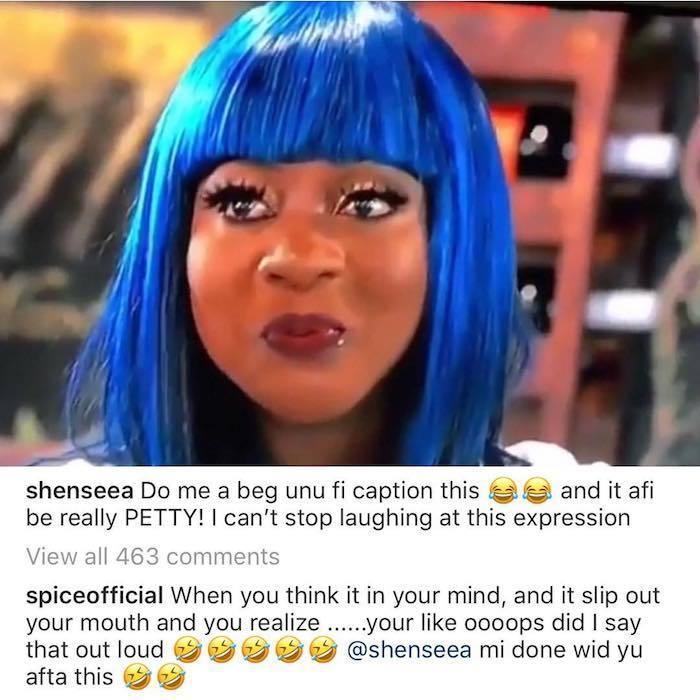 Spice commented with her best caption saying, "When you think it in your mind and it slip out your mouth and you realize… your like oooops did I say that out loud. Of course, Spice and Tokyo Vanity have been having issues on the show because none of these females like each other. Still, this is pretty hilarious.
At the end of the video, you will see Tokyo trying to connect her purse with Spice forehead and then tried to snatch her wig but security was quick to separate them.
Tokyo called Spice "Paprika" … Spice said Tokyo didn't need anything else to Eat!!!! …They Said What They Said!!!! #LHHATL pic.twitter.com/cmiyIntfV6

— Stove Top Stuffing (@MizKay83) May 29, 2018
Nah spice wack af for that comment how you going I say everyone grown but two seconds into meeting Tokyo you make a weight joke ? #LHHATL

— cheyenne? (@yoCasper_) May 29, 2018
Spice you need to hush because tokyo is cute and it's nothing wrong with heavy set girls . Baby you not even that cute just a big ass #LHHATL

— Just Dess????? (@DessGeorge) May 29, 2018
I don't usually say nothing but SPICE!!! You disgust me and rude asf!!! How you gone come for Tokyo like that and you don't even know her AT ALL!! I did like you but not anymore… sad case sweetie #LHHATL

— Mrs. McKenzie? (@__qveensuga) May 29, 2018
Spice doing waay to much. She told Estelita she didn't go through anything before she knew her. Ran up on Jasmine like she besties w| Rasheeda & Kirk. Always talking about Tommie's "problems" & now she body shaming Tokyo. #LHHATL pic.twitter.com/39ET0aWcxO

— Dime?? (@DiamondMarnise) May 29, 2018
When Tokyo Vanity Called Spice "Paprika" ????????? #LHHATL #LHHATLANTA pic.twitter.com/zC5pBIY3IC

— Truee Heat Fann (@Laid_Back_Tyy) May 29, 2018
Spice, I liked you until you came for Tokyo for no good reason (except ratings and a story line, I guess). Way out of line & unnecessary. She's the EX of the guy you're dating; why are YOU pressed?? #LHHATL pic.twitter.com/Q47Zwcp9Dr

— La Pantera (@mslatxespinosa) May 29, 2018
Bruh why did Spice say that about Tokyo lmfaoooooooo #LHHATL ? pic.twitter.com/3vOYLoAR7k

— beezy ? (@TerriHolgate) May 29, 2018