Nicki Minaj is a ride-or-die labelmate.
The Young Money first lady took to Twitter over the weekend to blast Pusha T for claiming that Drake doesn't write his own raps. Drizzy has been battling this ghostwriting rumors since 2015 when Meek Mill went on Twitter to call him out for allegedly using Quentin Miller to write his raps. In his new song "Infrared" off his new album Daytona, Pusha T reignite his beef with Drake by bringing up said Quentin Miller ghostwriting rumors.
Seems Drake was waiting locked and loaded and within a day after the song came out, the Toronto rapper dropped a blistering diss track "Duppy Freestyle." Nicki Minaj was also clearly furious about the ghostwriting jab and offload whatever was on her chest on Twitter.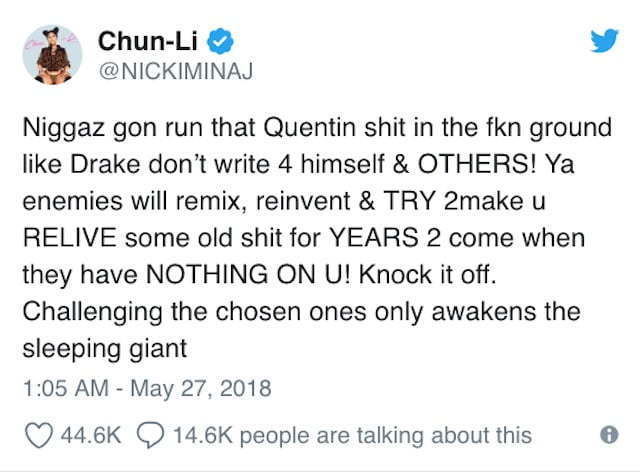 "N***az gon run that Quentin sh*t in the fkn ground like Drake don't write 4 himself & OTHERS!" Nicki wrote. "Ya enemies will remix, reinvent & TRY 2make u RELIVE some old sh*t for YEARS 2 come when they have NOTHING ON U! Knock it off. Challenging the chosen ones only awakens the sleeping giant."
Drake has proven himself to be a formidable foe with his handling of the Meek Mill situation so now we are all wondering why Pusha T and Kanye West decided to diss the Toronto rapper. Drizzy is currently getting ready to release his new album Scorpion in June. There might just be another diss track coming on the album.