Meek Mill is shooting his shots at Rihanna aka Robyn Thicke.
Rihanna is in full promotion mode for her new lingerie line Savage X Fenty. The pop star posted some pics of herself on her Instagram last night wearing some of the pieces from her collection and seems Meek Mill love what he saw. The Philly rapper left a comment on the photo saying "Robin Thicke" which is a wordplay on her government name Robyn Fenty.
RiRi has been flaunting her thickness since last year and it seems the internet just can't get enough of her. At the time of this publication, the photo has close to 2 million likes and hundreds of thousands of comments after only being posted two hours ago. So clearly Meek Mill wasn't the only one drooling over Rihanna in her Savage X Fenty lingerie, but he was the bravest celebrity to let it be known.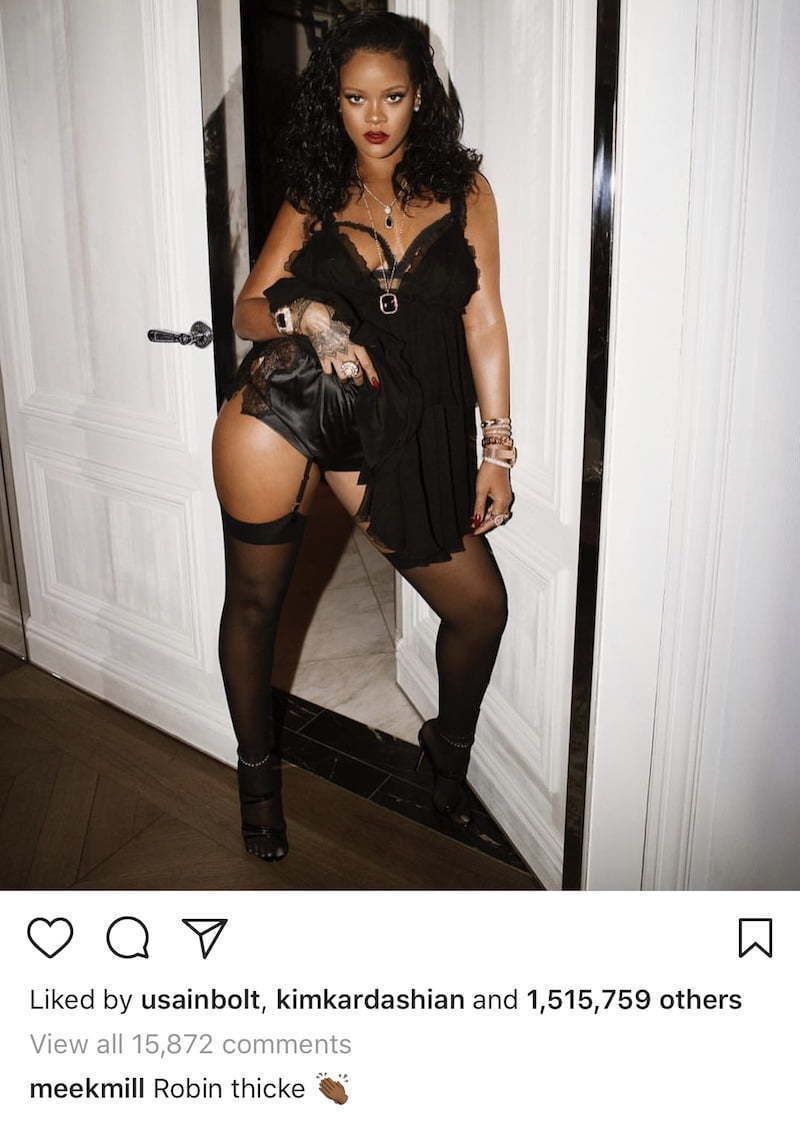 Meek Mill has been enjoying his freedom over the last few weeks after being released from prison on bail. He has been making the media rounds dishing on his case and even holding press conferences speaking out against an unfair justice system.
Rihanna, on the other hand, continues to make more money moves. Last night, her lingerie line finally go on sale online and it broke her website. Some fans were complaining bitterly that they were met with a black screen that tells them that they can't enter and also gave them a long wait time sometimes up to an hour.
"Rih [Rihanna] knew that everyone and their momma was gonna be on this site at 12:01 on the dot. So they made us wait in line," one fan wrote while another fan added, "I remember when #FentyBeauty dropped I was on the site early and didn't have to wait in line at all #SavageXFenty #23moremintuestogo."
Turns out this is not the only picture of Rihanna that Meek Mill either liked or comment on. Drake might have something to say about this.
This Meek Mill response to Rihanna…????? pic.twitter.com/zMCk6IAS1m

— Miranda McDonald (@MirandaRight13) May 11, 2018
https://twitter.com/rashiiiiidddd/status/994785625667710976
@MeekMill shooting his shot on @rihanna on her instagram picture ?? i need this kinda energy

— m a ? (@maddi3kate15) May 11, 2018