Drake set a new record in the number of concurrent streams on Twitch on Wednesday night playing Fortnite: Battle Royale with popular gamer Ninja.
After breaking Spotify and Apple music streaming records over the past couple of weeks, Drake took some timeout recording his new album and to play some video games and broke a record in the process. The Toronto MC was live on Twitch last night with playing Fortnite: Battle Royale with Travis Scott and popular gamer Ninja. The trio was live streaming the gaming session on Twitch through Ninja's channel and at one point there were over 600,000 concurrent viewers tuning in which is a record for a single channel on the platform.
When I logged on and checked out the live feed, there were just over 200,000 viewers tuning in. Then Drake tweeted out a link to the live feed to his 37 million followers and the number of viewers ballooned to over 600K.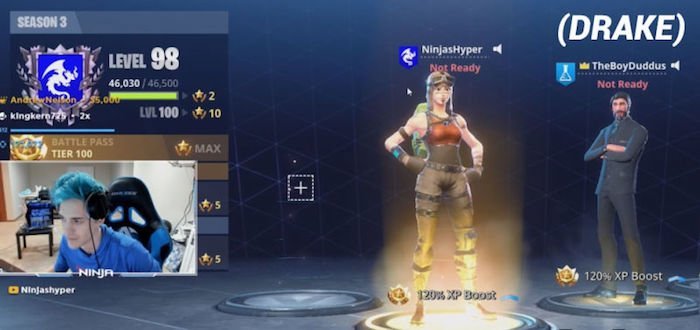 The previous record number of concurrent viewers on the channel was 388,000 and now Drake pretty much doubled that number in a single go in the middle of the night when most people were sleeping.
As for Drake skills, he is pretty good for someone who only just started playing Fortnite a month or two ago. How we know, Ninja asked him how long he has been playing the game and he replied a month or two. Sounds like Drizzy played the game in his studio in between recording takes.
The Young Money rapper is currently recording his new album which he only announced last weekend when Toronto Raptors beat Houston Rockets. He said his new album is for his city and it's coming soon. Drake currently has the number one song in the country with "God's Plan" now in its seventh week at the top of the Billboard Hot 100 chart.
playing fort nite with @ninja https://t.co/OSFbgcfzaZ

— Drizzy (@Drake) March 15, 2018