Big Sean allegedly cheated on his girlfriend Jhene Aiko with Pu**ycat Doll singer Nicole Scherzinger.
If you see Big Sean name trending on Twitter right now it's because he reportedly cheated on his prized girlfriend Ms. Aiko with the smoking hot Nicole Scherzinger. Black Twitter is currently ripping the G.O.O.D. Music rapper to pieces over the allegations. If this is true, then Jhene Aiko perhaps has the worst luck in men or maybe she just s*cks at choosing men.
Neither of the two music stars has confirm or deny the reports, but sources are saying that Big Sean and Scherzinger were spotted partying together at a private Oscar after-party last week. The pair were very cozy and were all over each other like they were in a relationship. Sources are also saying that when Jhene Aiko confronted Sean Don about it, he never confirm or deny it.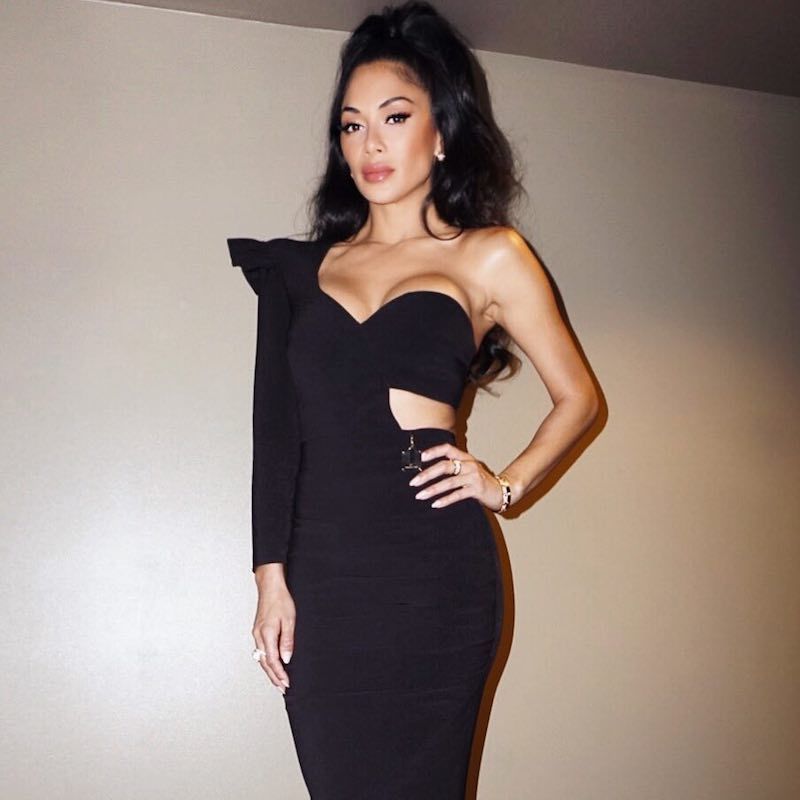 Here is where things get interesting, Aiko unfollowed the Detroit rapper on social media and over the past few weeks they have not been spotted together. This is a couple who used to be all over each other and would regularly post each other on social media. In an interview last month, the "Souled Out" singer explains how she and her TM88 group member started dating, while hinting that she might have cheated on her ex-boyfriend when she hooked up with Sean Don.
"Big Sean cheated on Jhene Aiko even though she has a big a*s tattoo of him on her arm but I still can't believe the Seahawks didn't run the ball family," one fan wrote on Twitter. The big question now is, what will she do with that giant tattoo of Big Sean face on her arm.
https://twitter.com/NathanZed/status/973366280542670848
Me when I found out why Big Sean is trending.. pic.twitter.com/63Owha8CC4

— ? (@OhMyThislsGreat) March 13, 2018
Big Sean cheating on Jhene Aiko after she got a whole tattoo of his face on her arm, proves that the only thing that's real is, J. Cole going double platinum with no features.

— Blvck Thony (@worldwidethony) March 13, 2018
If jhene aiko couldn't keep big sean happy, humanity is out the window ?

— Xavier René Payton ? (@Papizayyyy) March 13, 2018
Big Sean please come clear this rumor up bc pic.twitter.com/ZwAD2bssEq

— J O R I A ? (@jorialajoy) March 13, 2018
The loyal black man association™? explaining how big Sean was never black pic.twitter.com/lzT1Vyh32g

— TOM (BIG COCK) BRADY (@loafmanchris) March 13, 2018
Big Sean did not cheat. He had kept the relationship balanced. Jhene Aiko cheated to get into the relationship he had to do "cheat" to reset the balance. This is not cheating its balancing. Algebra.

— edwards (@itsedwardss) March 13, 2018
So Big Sean cheated on Naya Rivera with Ariana, then Ariana with Jhene Aiko, and now he's cheated on Jhene Aiko with Nicole Scherzinger? Chileee… pic.twitter.com/0yRB8eLmXq

— Check 4 a neck (@Beyoncemyroc) March 13, 2018
Big Sean did not cheat. He had kept the relationship balanced. Jhene Aiko cheated to get into the relationship he had to do "cheat" to reset the balance. This is not cheating its balancing. Algebra.

— edwards (@itsedwardss) March 13, 2018