50 Cent admitted in his recent bankruptcy documents that he lied about making millions off Bitcoin.
In January, 50 Cent revealed that he made over $8 million in the height of the balloon Bitcoin cryptocurrency. In case you were in the dark about Bitcoin trading, the cryptocurrency saw significant growth in valuation in December reaching an all-time high of over $19000 in mid-December. Amidst the Bitcoin fanfare, a big story came out claiming that 50 Cent made millions off of a secret stash of the cryptocurrency.
The story centered around the sale of his album Animal Ambitions and according to reports back then, he was paid a portion in cash and a portion in Bitcoins and he totally forgot that he had the Bitcoins until the massive surge in the valuation which earned him over $8 million.
He pretty much didn't deny the story, and his creditors started to inquire about the alleged millions of dollars in a secret stash. Turns out he had to file some bankruptcy documents on January 23, 2018 and in those docs, he denied the reports while explaining that he didn't deny the story back then because it was good for his image.
"I do not personally own, and have not owned, either a bitcoin account or any bitcoins," 50 Cent said in the legal documents.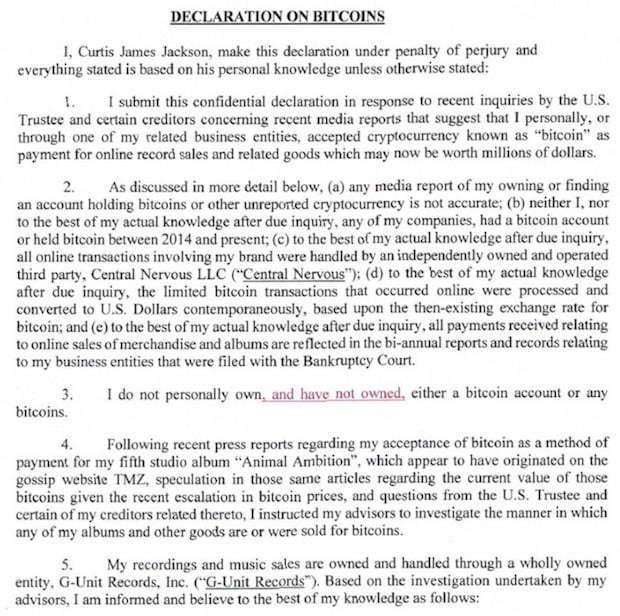 "As a general matter, so long as a press story is not irreparably damaging to my image or brand, I usually do not feel the need to publicly deny the reporting," he added under penalty of perjury. "This is particularly true when I feel the press report in question is favorable to my image or brand, even if that report is based on a misunderstanding of the facts or contains outright falsehoods."
He explained that the story originated on TMZ at the time and he didn't feel the need to publicly deny it because it was good for his image as a baller.