Etana gets US$5,000 from the Jamaican government for her upcoming 32-City tour of the US and reggae fans have mixed reactions.
The Minister of Culture, Gender, Entertainment and Sport, Olivia Grange, announced last week that reggae singer Etana is the first female artist to receive monetary support as part of her ministry's Artiste Ambassador and Tour Support Programme. She handed over the US$5,000 check last week which is the equivalent to approximately JM$627,000.
Some fans think that the money is a total waste of taxpayers dollars and could have been used elsewhere like support Shaggy's charitable effort Shaggy and Friends. "Babsy again giving away taxpayers $ and to the same Etana who cuss that in Ja. if you phone 911 you can't get any help & our minimum wage too low.The US$5000 she got is min. wage for 2 Jamaicans for 1 full year. Since she voted for Trump she needs to get him to subsidize her tour," one fan tweeted.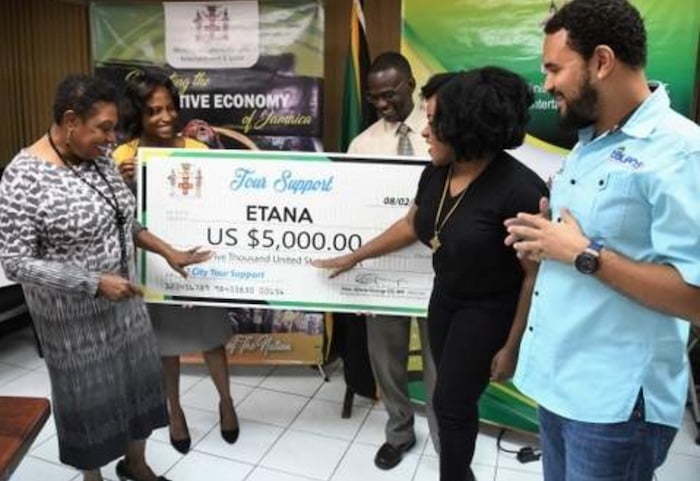 Etana has responded to the backlash and even got some support from some of her fans and peers in the entertainment industry like Dahlia Harris who pushed back on some of the criticisms. "Shelly learn to block it out. Pay them no attention. It's easy to be filled with hate in this time and some of them never hear better from their parents either how do you expect them to react to you. About 9 billion opinions out there. Live and love life. abriel got me," Etana tweeted.
Shelly learn to block it out. Pay them no attention. It's easy to be filled with hate in this time and some of them never hear better from their parents either how do you expect them to react to you. About 9 billion opinions out there. Live and love life. ? abriel got me

— ETANA???? (@EtanaStrongOne) February 11, 2018
I'm in Cayman today the beach is right next to me… I'm about to go put my feet in the water. ? stay happy stay positive.

— ETANA???? (@EtanaStrongOne) February 10, 2018
Etana is also the first female to receive support. So me feel it say a she a get the cussing. Though no one should be cussed, just saying, we never cuss a single male artiste who got support in a programme launched from 2014.

— Dahlia Harris (@DahliaHarris) February 11, 2018
Etana isn't the only artiste to receive support through this programme. Its not new. There are promotional deliverables on her part. It's Reggae. Nothing wrong with government partnering to maximise the nation brand.

— Dahlia Harris (@DahliaHarris) February 10, 2018