Dave East has had enough of fans criticizing his new hairstyle.
The Harlem MC has been getting roasted on social media since yesterday when he first debuts his new look what he calls box braids dusty. While the vast majority of his female fans aren't too happy about his new look, a lot of others have voiced their support telling him to do whatever he wants with his own hair. Seems Dave East will be listening to those fans who are respecting his creative freedom because one fan learned the hard way after getting a nice little clap back.
"Dave go back to the place they did your hair and get it cut. U too sexy for that. U already had your look down," one female fan wrote to which East quickly responded, "Go bacc to your mom and tell her to put u bacc in her stomach. She already was good."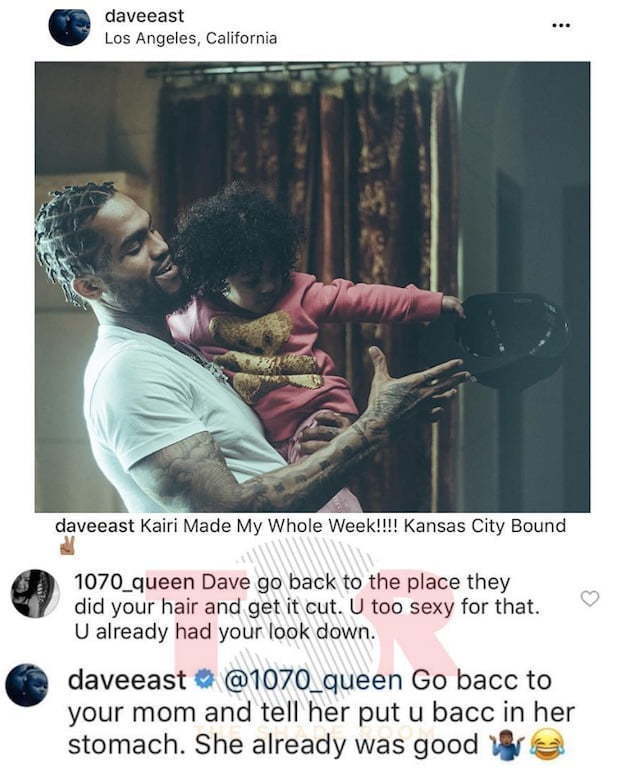 While he wasn't as savage as a Rihanna, it was enough to catch the attention of his fans who quickly grabbed a screenshot of it. Dave East has been posting a bunch of photos of his new hairstyle on Instagram, a clear sign that he has no intention of reversing course. In some pics, you will see him showing of his adorable daughter Kairi.
In related Dave East news, "The Hated" rapper recently signed a deal with Luc Belaire to become their new global ambassador. "It's official – I've joined Belaire as their newest global ambassador. You already know we're craccin bottles to celebrate!! Stay tuned, we got a lot up our sleeve #Belaire #SelfMade #SelfMadeTastesBetter #FreakyForever #MuggaWorld," he confirmed on Instagram last week.
The rapper also revealed that he and his daughter Kairi signed a new deal with New Era Cap. "Me And Kairi Signed Our First Deal Today With @neweracap We Are Excited To Become A Part Of The Family," he said.