Drake is currently in Miami shooting a video for his record-breaking single "God's Plan."
Drake shattered the Apple Music and Spotify single day streaming record last month when he debuts "God's Plan" without much notice. The 6 God once again silence his critics by showing that he is one of the greatest rappers of this generation and perhaps of all-time. But that's a conversation for a different time since this story is about the highly anticipated upcoming music video for the single.
The Toronto MC and his crew touched down in Miami over the weekend to shoot scenes for the music. The crew was spotted on set at the Miami Senior High School on Monday and we're told that a select number of students will get a chance to appear in the cut. The video clip below posted on Twitter shows some students running and screaming when Drake popped up at their school with his film crew.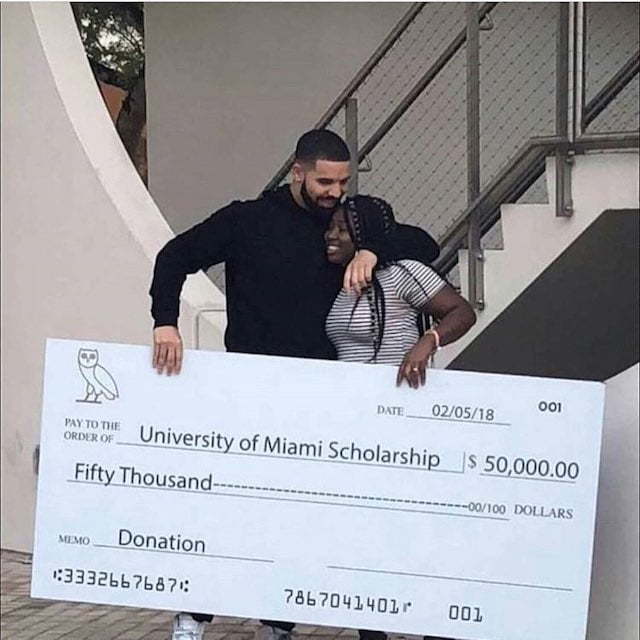 Drake also donated $25,000 to the high school and pledge to donate new uniforms to the school designed by his OVO team. Seeing Drizzy popping up at your high school without notice got to be a great experience, and on top of that he is shooting a music video there, it must be pretty special. "God's Plan" debut at No. 1 on the Billboard Hot 100 chart this week after picking up 68 million streams in the first week of release, Billboard reported.
RELATED: Drake Cleverly Tells Rihanna To Drop That Sizzla Collab
Shooting a music video is not the only thing the 6 God is doing in Miami, the OVO leader also gave a $50K scholarship to a brilliant biology student at the University Of Miami. A part of the music video for God's Plan was shot on the university's campus.
Urban Islandz reported last week that Drake is working on a Lebron James tribute single which is expected to be released sometime this month. The move came after the NBA legend scored a milestone 30,000 points during his career and he still has ways to go.