Chronixx is angry with the Grammys after losing out the Best Reggae Album trophy to Damian Marley.
Damian "Jr. Gong" Marley won his third Grammy award last night at the 60th annual Grammy Awards ceremony in New York City. Chronixx, as well as, four others were nominated in the Best Reggae Album category and not only did the Chronology singer not congratulate Marley for the win, he also chided the Grammys in a message posted on Instagram.
"When mi fren dem realize seh the @recordingacademy doesn't televise the reggae category for the Grammys, they did say the revolution will not be televised," the singer wrote. He has since deleted the post after it went viral. Some fans also see this as a grudge against Damian Marley winning the award while others support his assessment.

"Chronixx I agree with your statement about the Grammys not televising the reggae category but this seems like your a grudge against Damian," one fan wrote. "Yes there are some biases when it comes to the Marley brand but that doesn't mean you can't congratulate your comrade. Even though he has the Marley name his album was actually better than yours in my opinion. Don't let your grouses against the Grammys let you start feuding with your musical brother rastaman."
Here is another comment from another fan.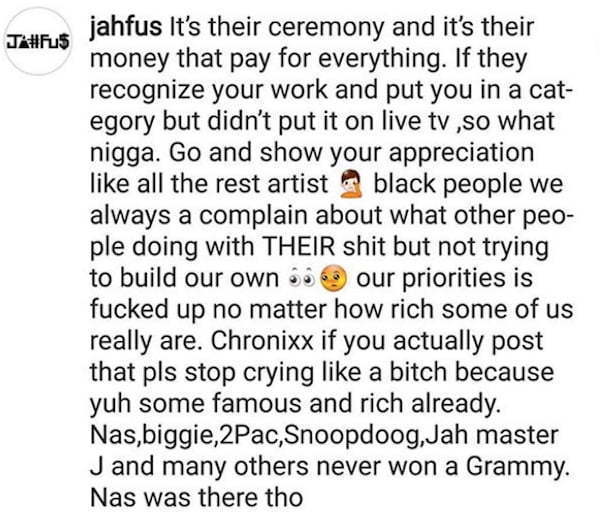 The Recording Academy has never televised the Best Reggae Album category mainly because the category is not big enough. To be fair to them, there are several other categories that are bigger than the reggae category that are not televised. This has been a big issue for reggae fans for a long time and the awards ceremony has not moved to address it. So don't expect to see your favorite artists in this cat accepting their award.
Do you think Chronixx should have won the Best Reggae Album Grammy. Leave your comments below.