Ninjaman, his son Janiel Ballentine, and Dennis Clayton were sentenced to life in prison with hard labor.
A Jamaican high court judge handed down the harsh prison sentence on Monday in the Home Circuit court in Kingston. Ninjaman and his two co-accused were found guilty of the murder of Ricardo Johnson, aka Ricky Trooper, who cops say was gunned down on March 16, 2009, on Marl Road, Kingston 13. The dancehall legend claimed he is innocent, but a seven-member jury unanimously found him and the two others guilty of the murder when the trial concluded on November 20, 2017.
Ninjaman, whose real name is Desmond Ballentine, will have to serve 25 years in prison before being eligible for parole. The dancehall icon sat stoned-faced in court as the judge handed down the harsh sentencing. His son Janiel and friend Dennis Clayton were also given life imprisonment and will be eligible for parole in 15 years. Ninjaman's sentencing was originally set for last Friday but was delayed until Monday after a character witness and one of the defendant's attorneys were unable to be in court. Both the witness and the lawyer representing Clayton were in court on Monday for the sentencing.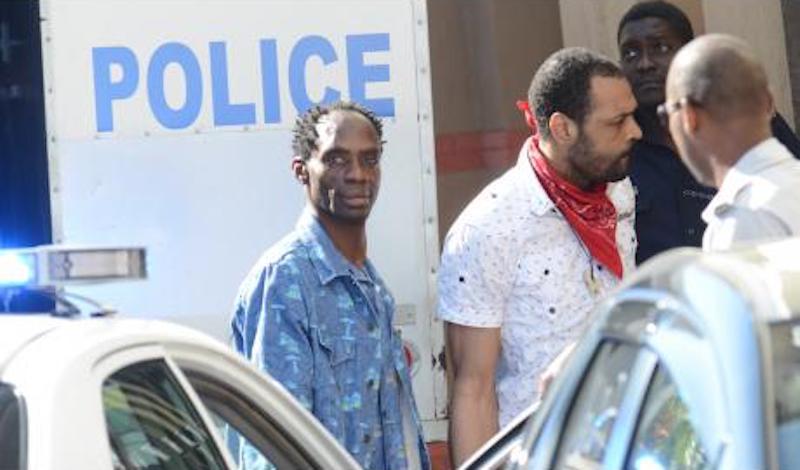 Ninjaman will be age 76 before he is eligible for a parole hearing which is not always guaranteed. The dancehall legend has maintained his innocence and has indicated following the trial that he will likely appeal the conviction. In case your wondering why he received a harsher sentencing than his two co-accused, the prosecution main witness, who is now in witness protection, identified Ninjaman as the man who pulled the trigger to kill his friend Ricardo Johnson on Marl Road on that fateful day in March 2009. The witness told the court that Ninja also fired two shots at him but he managed to escape the gunfire and ran for his life. The men got into a domestic dispute over a kitchen space at a house on Marl Road where the main witness was the landlord.
RELATED: Ninjaman Thinks He Was Given An Unfair Trial Like Vybz Kartel
Ninjaman is one of the most iconic names in dancehall's history with over close to four decades as an active artist under his belt. He was born in Annotto Bay, Jamaica, on January 20, 1966, but moved to Kingston as a youngster. He started out as a DJ on famous sound systems like Black Culture and Killamanjaro from age 14 under the name Double Ugly. He later changed his name to Ninjaman and started recording music in the early 1980s.
By the Mid-80s, Ninjaman found a few hits and started producing songs for himself and started working with other artists like Super Cat and Early B. He also worked with producers like Ini Kamoze, Philip "Fatis" Burrell, Steely & Clevie, Bobby Digital, and King Jammy. Between the 1980s and 90s, Ninja has already built a name for himself in dancehall as a lyrical prowess with a gift of spitting lyrics on the spot with or without a beat. But in the mid-1990s he came under fire for his hardcore gun lyrics and was blamed for fueling crime in Jamaica with his music. That branding leads him to give up dancehall for a short while to become a gospel artist using the name Brother Desmond.