Azealia Banks is considering suing Remy Ma.
The social media beef between Azealia and Remy has grown to new heights with threats of lawsuits getting into the mix. In case you haven't been following the beef, the two female rappers butt heads on Instagram last week over their perceived inability to remove the Nicki Minaj cloud from over their respective careers. That's what most hip hop fans concluded, because what else could these two be beefing over.
We all know how petty Remy Ma can get judging from her "shETHER" diss track against Nicki Minaj earlier this year. It didn't take too long for her to went HAM on Azealia Banks and even went as far as to releasing some private conversations between the two of them discussing Nicki. It didn't stop there, the Love and Hip Hop New York star also leaked some private photos allegedly sent to her by Banks, who has now come forward denying that the photos belong to her.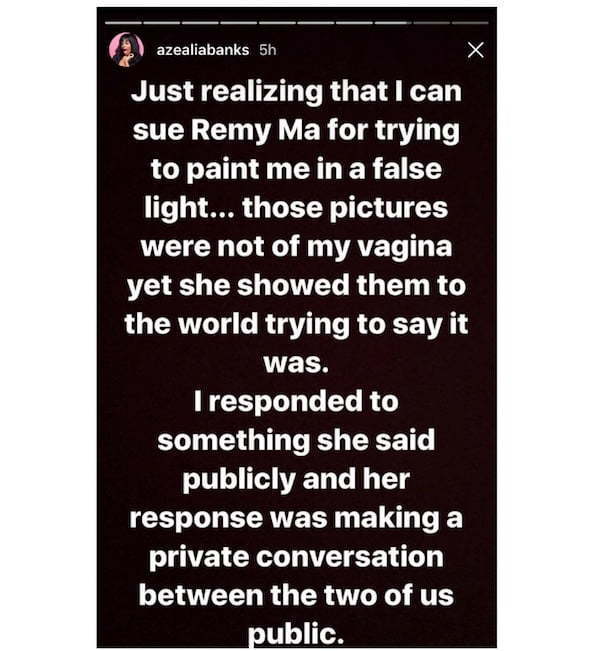 "Just realizing that I can sue Remy Ma for trying to paint me in a false light," the Harlem rapper wrote. "Those pictures were not of my vagina yet she showed them to the world trying to say it was.I responded to something she said publicly and her response was making a private conversation between the two of us public."
She also pointed out to a recent law in New York where individuals can be sued for revenge porn and face up to a year in prison and or a $1,000 fine. Remy Ma is still on parole so any new legal problems for her could cause a ripple effect. It's unclear if the threats are serious or perhaps Banks is just using it as leverage to get the "All The Way Up" rapper to ease up off her.