50 Cent has been going in on Wendy Williams for days now after the talk show host drop a diss on him.
The rap legend says that he is going after Williams because she told him to get his life together. 50 posted the same photo that T.I. posted of Wendy Williams on vacation in the Caribbean. In September, TIP got into a social media beef with the talk show hosts and both of them clap back pretty hard at each other. Fiddy is perhaps a little less kind than the Hustle Gang rapper.
"Wendy williams just told me to get my life together, smh your husband is not a bad man," 50 Cent wrote. "He deserve a side chick for talking to you, you ugly mother****er Focus on your own sh*t b*tch. Oh yeah we in club LUST tonight you're invited.LOL."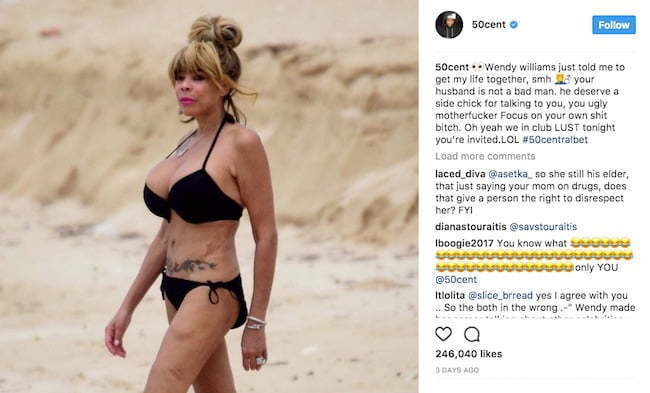 That was just the beginning of 50 Cent's relentless trolling of Wendy Williams whom he compared to a beast. He also called her out for hating on Angie Martinez who just landed her own talk show. "Shout out to the talk of New York, @AngieMartinez," Fiddy added. "please go on Tv so we don't have to look at this dog face b**ch no more. That sh*t suppose too only be on radio. We ain't suppose to have to look at sh*t like this. LOL."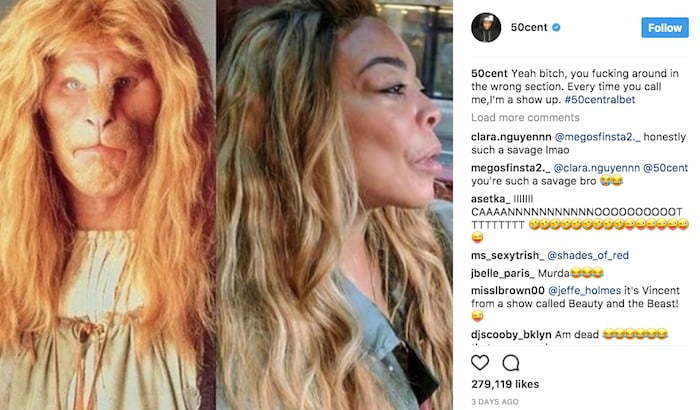 Surprisingly, Wendy Williams has yet to respond to 50 Cent and something tells me that when she finally does, it will be as epic as her comeback to T.I. when he disrespected the rapper's wife Tameka "Tiny" Harris. This is also 50 Cent's territory so if she does respond it could be a whoel year long beef on social media. Fifty has a habit of never letting up on his enemies, just ask Diddy.
"Yeah b**ch, you f***ing around in the wrong section. Every time you call me,I'm a show up," he wrote.
https://www.instagram.com/p/BaOvK6yDj9U/